Home
BRDJANIN SENTENCED TO 32 YEARS IN PRISON
Former president of the Crisis Staff of the so-called Autonomous Region of Krajina found guilty on eight of a total of 12 counts in the indictment charging him with the crimes committed between April and December 1992 in northwestern Bosnia and Herzegovina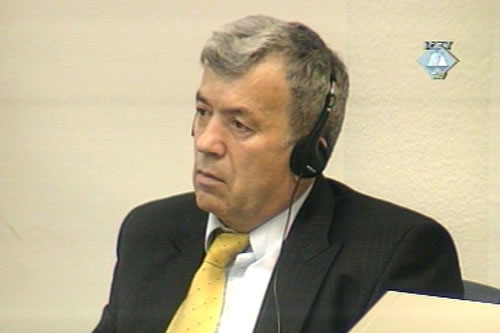 Radoslav Brdjanin in the courtroom
Radoslav Brdjanin, former president of the Crisis Staff of the so-called Autonomous Region of Krajina (ARK), was sentenced today to 32 years in prison. The Trial Chamber found Brdjanin guilty on eight of the total of 12 counts in the indictment charging him with the crimes committed between April and December 1992 in northwestern Bosnia and Herzegovina, in the 13 municipalities that comprised the ARK at the time.
Brdjanin was found guilty of the persecutions of non-Serb population on political, racial and religious grounds, willful killing, torture, wanton destruction of cities, towns and villages not justified by military necessity, and causing willful damage to religious institutions. On the other hand, the Trial Chamber concluded that the prosecution had failed to prove beyond reasonable doubt Brdjanin's responsibility for genocide and complicity in genocide, extermination and destruction and appropriation of property not justified by military reasons.
The Chamber it found that "substantial parts of protected groups - Bosnian Muslims and Croats - were targeted, that a large number of civilians were killed and that in detention facilities throughout the ARK living conditions were deliberately inflicted on them that were calculated to bring about their physical destruction. However, the Trial Chamber has found that the prosecution failed to prove beyond reasonable doubt that these crimes were committed with the intent of destroying the protected ethnic groups as such, which is a precondition for a crime to be qualified as genocide. Instead of the genocidal intent, the Trial Chamber has found, these crimes were committed with the intent of forcibly displacing these groups in order to ethnically cleanse the ARK territory.
Radovan Brdjanin was, the Chamber concluded, not merely a "formal president", but a "key figure" in the Crisis Staff and stood behind all its main decisions. The summary of the Judgment lists three types of decisions rendered by the Crisis Staff, implemented by municipal organs, police and, in some case, by the army. The decisions pertained to the firing of Muslims and Croats, their disarming and forcible displacement. As the Trial Chamber found, these decisions were of vital importance for the overall success of the ethnic cleansing and contributed substantially to the realization of strategic goals proclaimed by the RS Assembly.
According to the words of his American defense counsel, John Ackerman, Radoslav Brdjanin was "slightly shocked by the judgment", particularly with the severity of the sentence. Ackerman adds that he "will definitely appeal."