Home
"WRONG MAN IN THE WRONG PLACE"
Testifying as a defense witness, former president of the Bratunac municipal Government Srbislav Davidovic claims that the accused, Vidoje Blagojevic, did not have anything to do with events in Srebrenica in July 1995.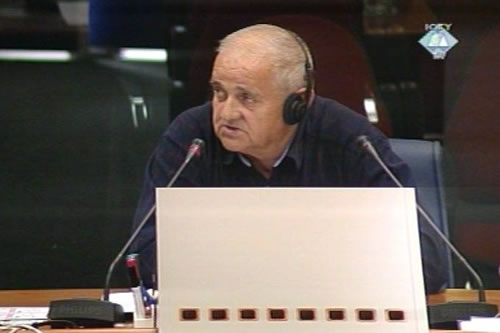 Srbislav Davidovic, witness at the Vidoje Blagojevic and Dragan Jokic trial
Vidoje Blagojevic – accused of complicity in genocide in Srebrenica – was simply "the wrong man in the wrong place" and "had nothing to do with it," claims his defense witness. The former president of the Bratunac municipal government, Srbislav Davidovic, claims "he never heard that Blagojevic had taken any part in any crimes related to Srebrenica."
The former commander of the VRS Bratunac Brigade, Vidoje Blagojevic is charged with the murders and abuse of Bosniaks in his brigade's area of responsibility. Davidovic, however, says he did not see him in Bratunac in the days following the fall of Srebrenica, when buses and trucks arrived in town with captured Bosniaks, some of whom were killed in the elementary school, the hangar and other detention centers; others were executed at different locations.
As a representative of the civilian authorities, Davidovic was a participant in the meeting General Ratko Mladic held with the Bosniak representatives in Hotel Fontana in Bratunac on 12 July 1995. "The general offered the representatives of the Muslim side the choice of remaining in the area and gave them guarantees for their freedom of movement and life. They refused it and demanded to go to Tuzla and Kladanj," the witness says. He adds that he was "convinced" at the time that nothing would happen to the Bosniaks and "it never occur to him, not even subconsciously," that someone might harm them.
The witness claims that he heard later--"from the media"--that "a lot of people have gone missing … five, six or seven thousand." He heard about the killings in the woods, in the village of Kravica and in the Zvornik area, and he heard that mass graves were exhumed at a later time. However, he claims "he does not remember who he heard it from."
When asked by the prosecutor whether he would trust today the promises made by Ratko Mladic, the wtiness, after a brief hesitation, replied, "He would not, because he did not honor the agreement."
When Srebrenica was captured, Davidovic was tasked with providing bread and water for the refugees in Potocari. He states, however, that he did not see any prisoners being abused, men being separated from women and children or their property being confiscated. The next day, he was busy with Bosniak prisoners in the centre of Bratunac. He says he "filled more than 50 jerry-cans with water for them." He says he did not know about prisoners being abused, but he admits having heard that there were some dead bodies left in the school.
When asked by the prosecutor whether he had informed anyone about what happened in Bratunac or called upon UNPROFOR to protect the prisoners, the witness said he had not. When asked whether he had informed anyone about the exhumation of the mass graves in order to assist in locating bodies, Davidovic again replied that he had not because he "had only heard about it."