Home
LORD BONOMY TO REPLACE JUDGE MAY
The new judge in the Chamber hearing the case of Slobodan Milosevic will officially take up his duty on 1 June 2004. The Tribunal confirms that Milosevic proposes 1,631 defense witnesses.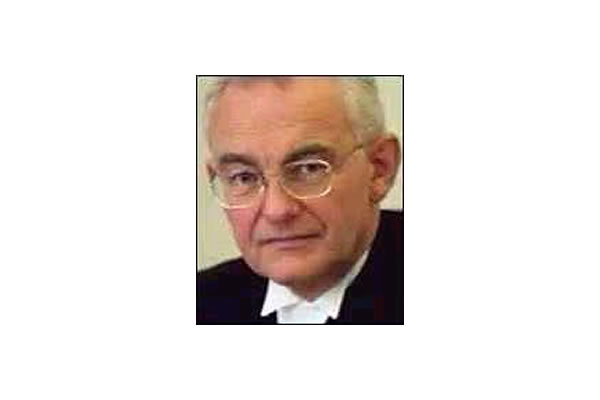 Iain Bonomy, judge at the Slobodan Milosevic trial
The International War Crimes Tribunal in The Hague confirmed today that Lord Iain Bonomy, a Scottish judge, will replace English judge Richard May in the Trial Chamber hearing Slobodan Milosevic's case.
Although he will officially take up his duty on 1 June 2004, it was revealed today that Lord Bonomy is already in The Hague getting acquainted with the voluminous material produced so far at the trial of the former president of Serbia and the FRY. In addition to the more than 30,000 pages of transcripts and the hundreds of documents admitted into evidence during the prosecution's case, Lord Bonomy will also have to study the Rules of Procedure and Evidence and the jurisprudence of the Tribunal before officially taking up his post. The new judge will also have to confirm in writing that he is familiar both with the case and with the rules and jurisprudence of the Tribunal before taking his place in the chamber trying Milosevic.
Lord Bonomy, 58, first served as a High Court prosecutor. In 1993, he was appointed QC and in 1997, he was elevated to the bench. After severely criticizing the work of the High Court, Lord Bonomy was appointed to lead the enquiry into why it was so inefficient. Reforms based on his recommendations are now waiting parliamentary approval.
The Tribunal also confirmed today that Slobodan Milosevic submitted the list of witnesses he wants to call during his defense case and a list of exhibits he will seek to admit into evidence. A Tribunal spokesperson confirmed that the list contains 1,631 names, but he said it is confidential and that it was submitted to judges who will rule on the relevance of the proposed witnesses. He refused to comment on Belgrade reports that some of the names are famous, such as Clinton, Blair, Albright and Cook. The accused allegedly wants them brought to The Hague to testify.
The Chamber decided this February that the defense case should last 150 workdays. That means that if judges accept Milosevic's list, about 11 witnesses would be heard on average each day.