Home
MILOŠEVIĆ REFUSES TO GIVE HIS CONSENT TO THE REPLACEMENT JUDGE
The failure of the accused to state whether he will consent to the continuation of the trial with a new judge has been interpreted as his refusal to give consent - The three requests of Slobodan Milošević - "It is not my intention to disappear but to win"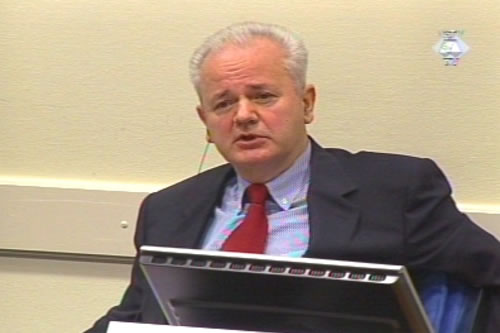 Slobodan Milosevic in the courtroom
Slobodan Milošević refused to tell the judges today whether he consents to the continuation of the trial with a new judge. The replacement of Richard May - who resigned on health grounds - is, according to the accused, an "administrative issue of an illegal tribunal" in which he does not intend to get involved.
The President of the Tribunal Theodor Meron interpreted Milosevic's stand as his "refusal to give consent" for the continuation of the trial with a new judge. The issue is thus back in the hands of the two remaining judges of the trial chamber hearing Milošević's case. It is now up to judges Robinson and Kwon to decide whether to opt for a re-trial or whether it is in the interest of justice to continue the trial with a new judge. Whatever their decision, both sides – the accused and the prosecution – are entitled to an appeal which would be ruled upon by the bench of five judges of the Appeals Chamber.
Before he refused to answer the direct question asked by President Meron, Milošević had
made three requests. Noting that his doctor only allows him to work three days a week, he asked that the time period of 90 days allotted to him for the preparation of his defense be extended. Secondly, he asked that the decision granting him 150 workdays for the presentation of his case be re-examined, as according to his calculation it is half the time that had been allotted to the prosecution for the presentation of their case. Thirdly, he repeated his demand that he be released in order to prepare for the rest of the trial. He said "it was not his intention to disappear, but to win against the false accusations which had crashed by the end of the first 'half-time'."
Carla Del Ponte had only two brief comments to make. She said she "was not a false prosecutor but the chief prosecutor" and she agreed with President Meron that Milošević's failure to respond must be interpreted as his refusal to consent to the replacement of the judge.