Home
MILOSEVIC'S DEFENCE CASE SET TO BEGIN ON 8 JUNE
Judges acknowledge that the prosecution rests its case; set the date for the beginning of the defence case, which is expected to last 150 days; and refuse to admit into evidence almost all of the new documents the prosecution tendered.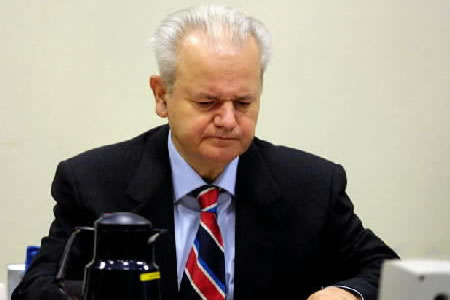 Slobodan Milosevic in the courtroom
The Trial Chamber acknowledged today's decision by the prosecution to rest its case against Slobodan Milosevic and ordered the defence case to begin on 8 June 2004.
According to the Trial Chamber order, the defence case should take a total of 150 working days; Milosevic will have 90 days for his examination-in-chief and the prosecution will have 60 days for its cross-examination of defence witnesses. The figures are based on judges' calculations that the prosecution case lasted only 90 working days, whereas the remaining time (out of a total of 290 days of hearings) was spent dealing with housekeeping matters and the accused's cross-examination of witnesses.
The "amici curiae" and the accused have until 8 March to file any motions of no case to answer for the counts of the indictment that, in their view, prosecutors failed to prove beyond a reasonable doubt; the pre-defence conference is scheduled for 17 May.
The Trial Chamber also ruled on prosecution motions seeking to admit into evidence certain video and written materials. There was only one document admitted—and even that is conditional on a final ruling by the Chamber following the consideration of any objections launched by the accused or amici curiae. It is the order of the Joint Command of 15 April 1991. The interview of the accused for the Televizija Palma channel in December 2000 and the minutes from the closed sessions of the Assembly of Bosnian Serbs from 1991 and 1992 were not admitted, the explanation being that they were "tendered too late." The transcripts of the interviews of some 20 people from the former Yugoslavia who took part in the TV series "The Death of Yugoslavia" and "The Fall of Milosevic" were not admitted because the accused "did not have a proper chance to challenge them."
Although not explicitly stated, today's decision by the Trial Chamber might indicate that in the absence of Judge Richard May, who resigned for health reasons, Judges Robinson and Kwon decided it is in the interests of justice to continue the trial with a new judge, who will be assigned by the President of the Tribunal.