Home
SESELJ DECLARES 'COLLAPSE OF TRIAL'
At the end of his cross-examination of prosecution witness Djuro Matovina, who testified about the massacre in the village of Vocin, Vojislav Seselj says the 'show trial' against him has 'collapsed' adding that so far 'not a single witness or expert has managed to confirm any of the allegations in the indictment'. The trial will continue tomorrow, despite this assessment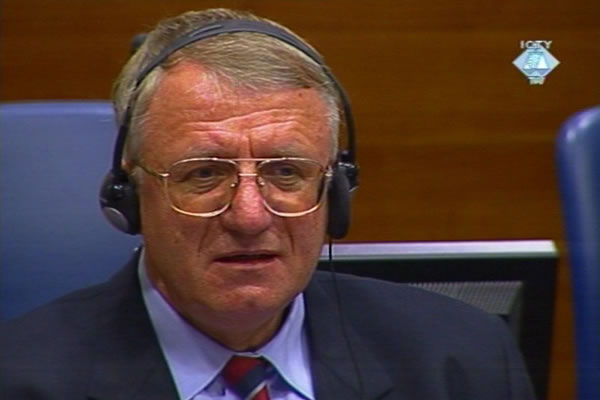 Vojislav Seselj in the courtroom
In his cross-examination of prosecution witness Djuro Matovina, former police officer and CID inspector from Podravska Slatina, Vojislav Seselj didn't deny that in the night of 12 December 1991 volunteers from Serbia killed forty five Croat civilians in the village of Vocin in Western Slavonia. They destroyed the church of Our Lady of Vocin and most of the village. What Seselj did deny was that 'Seselj's men' – Serbian Radical Party volunteers – were involved in this crime. According to him, they left the village before the massacre and headed to Belgrade by bus. Seselj confirmed that from late October until their withdrawal in December there were between 600 and 700 Serbian Radical Party volunteers in the Podravska Slatina area.
In the statement he gave to the OTP investigators in February 2002 in the Slobodan Milosevic case, Matovina identified a group of some eighty Serbian volunteers known as the 'White Eagles' as the perpetrators of the Vocin massacre. In his examination-in chief yesterday, Matovina added that some of them were 'Seselj's men'. The fact that in his statement and the evidence at the trial of Slobodan Milosevic Matovina didn't mention the SRS volunteers was taken by Seselj as proof that 'somebody' – the prosecution – 'suggested to the witness he should implicate the SRS volunteers in the crime in Vocin'. Seselj linked this with a quote from Carla Del Ponte's book. 'Take Seselj to The Hague and don't send him back to us', late Serbian prime minister Zoran Djindjic said to Del Ponte at that time.
Matovina denied that anyone had made such a suggestion to him. As he prepared for his testimony, he read the documents from an investigation he himself took part in. In the statements given by a number of survivors and witnesses of the massacre in Vocin the perpetrators of the crime are described as 'White Eagles', 'Seselj's men', 'Black Hand' or 'Serbian paramilitaries'.
Several times in the past month Seselj said in court that Djindjic 'put out a contract' for his indictment to Carla Del Ponte. Today, German prosecutor Mussmeyer finally read the relevant excerpt from her book noting that the conversation in which Seselj's indictment was allegedly 'contracted' took place on 17 February 2003, three days after the indictment against the Serbian Radical Party leader was confirmed by a Tribunal judge.
Although the prosecutor thus left Seselj without one of his favorite arguments, as the session drew to a close Seselj announced that his 'show trial has collapsed'. So far, 'not a single witness or expert has managed to confirm any of the allegations in the indictment', Seselj noted. In spite of this assessment of the trial, the judges said a new prosecution witness would give evidence tomorrow.