Home
TRIGGER-HAPPY VOLUNTEERS
According to prosecution witness testifying at the trial of Vojislav Seselj, there were 'very unpleasant stories' about Croatian atrocities circulating among Serbian volunteers in Vukovar; this made them 'quicker on the trigger'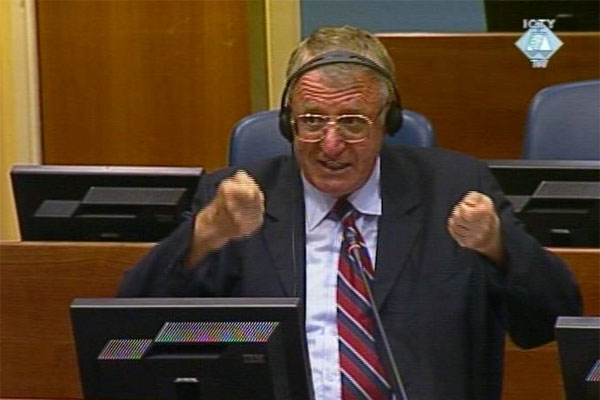 Vojislav Seselj in the courtroom
Protected witness testifying under the pseudonym VS 002 felt a 'patriotic pressure' to go to Vukovar in September 1991 to fight 'the Croat rebels' there. In his evidence at the trial of Vojislav Seselj, he says that, 'like any other Serb from Croatia' he was 'enthusiastic about the border running along the Karlobag-Karlovac-Virovitica line' Seselj and others were talking about. His house was in Vukovar, he added, and to him 'it was logical that as a Serb he wanted it to be Serbian territory'.
The witness became a volunteer between 20 and 25 September 1991. He went to Vukovar with the First Guards Brigade. Twelve days later, he joined the Vukovar Territorial Defense. In his opinion, by early October 1991 the fighting was 'basically already over' and the Croatian defenders 'were not showing much resistance', but the JNA 'kept on shelling the town non-stop'. The witness wasn't able to explain why the town was shelled if there was no resistance and why the JNA didn't enter Vukovar if the defense was crushed. 'It is a matter of politics', he said.
In his words, 'very unpleasant stories' circulated among the Guards Brigade soldiers and Serbian volunteers, recounting terrible atrocities committed by Croats: about a pregnant Serb woman crucified on a fence with her belly ripped open or about an elderly woman who invited young soldiers in for a coffee and then blew them up with a hand grenade. There was a story of an old lady who opened fire at the army from a tower, and so on. The witness believes that 'those in charge of the troop morale' were behind such stories. Because of these stories, the soldiers were 'more willing to shoot'; they became 'trigger-happy'.
The witness went on to speak about the structure of the Vukovar Territorial Defense, identifying its commanders, Miroljub Vujovic, Dusan Jaksic, Stanko Vujanovic, Milan Lanzucanin Kameni and Miroslav Djankovic Djani. At the end of the session today, he also identified several Territorial Defense members whom he 'saw at Ovcara on 20 November 1991'.
As his evidence continues tomorrow, witness VS 002 is expected to describe in greater detail whom and what he saw at Ovcara on 20 November 1991. As alleged in the indictment, at Ovcara, some 260 persons taken that day from the Vukovar hospital were summarily executed by members of the Territorial Defense and volunteers from Serbia.
Because the witness was at Ovcara when this crime was committed, he was cautioned by the prosecution at the beginning of his proofing session that he might become a suspect. The witness was therefore offered to be interviewed in the presence of an attorney but he declined. The transcript of the proofing session was disclosed to Seselj today prompting him to accuse the prosecution of 'a flagrant example of witness intimidation'. The judges dismissed Seselj's objection noting that in the circumstances the prosecution was obliged to warn the witness about his status as a potential suspect.