Home
RADOVAN KARADZIC JUDGMENT ON 24 MARCH
The judgment in the case against Radovan Karadzic will be rendered on 24 March 2016. At the end of the trial which lasted almost five years, the prosecution asked for a life sentence for the accused, while Karadzic asked the judges to acquit him on all counts in the indictment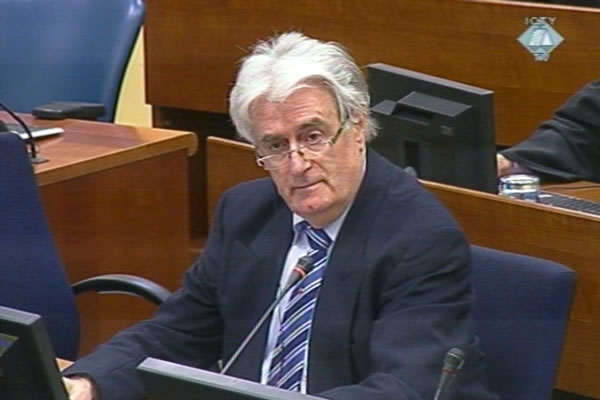 Radovan Karadzic in the courtroom
The judgment in the case against the former Republika Srpska president Radovan Karadzic will be rendered on Thursday, 24 March, at 2 p.m., it was announced today at the Tribunal.
The first indictment against Radovan Karadzic was issued in July 1995. He spent the following 13 years, until July 2008, as a fugitive from international justice. He was arrested in belgrade on 21 July 2008, and transferred to The Hague ten days later. The trial began with the opening statement of the prosecution on 27 October 2009, and was immediately adjourned. On 1 March 2010, the trial resumed with the opening statement of the accused Karadzic, who represented himself. The parties delivered their closing arguments in late September and early October 201, and the judges then withdrew to deliberate.
The former Republika Srpska president was charged with the participation in four separate but interconnected criminal enterprises: persecution and ethnic cleansing of non-Serbs in large swathes of Bosnia and Herzegovina, which reached the scale of genocide in seven municipalities; artillery and sniper terror campaign in Sarajevo; taking UN staff hostage and using them as human shields; and finally genocide in Srebrenica in July 1995.
The prosecution asked for a life sentence for the accused, while Karadzic wanted the judges to acquit him.