Home
FLORENCE HARTMANN ARRESTED
Less than two hours before Radovan Karadzic was due to hear his verdict, Florence Hartmann was arrested on the lawn in front of the International Criminal Tribunal for the former Yugoslavia. The victims who also gathered there tried unsuccessfully to shield her with their bodies. Former chief prosecutor Carla del Ponte was 'shocked' by the news of Hartmann's arrest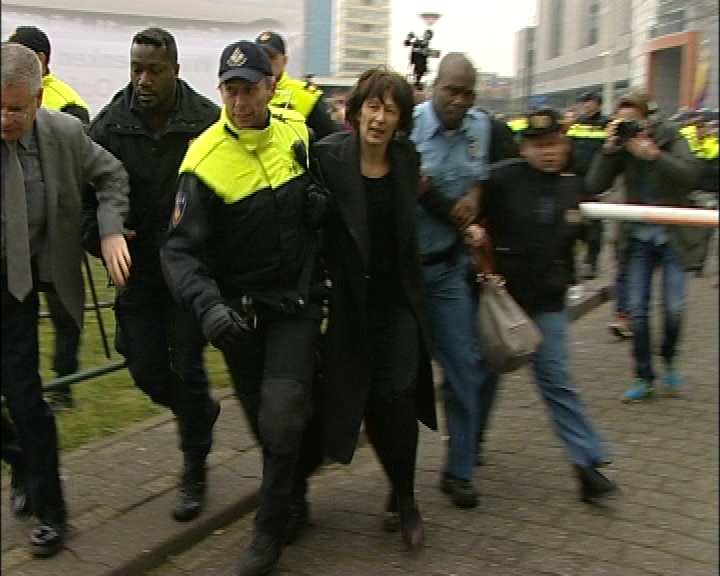 Florence Hartmann arrested
Two hours before Radovan Karadzic was due to hear his verdict, Florence Hartmann was arrested in front of the International Criminal Tribunal for the former Yugoslavia. The victims tried unsuccessfully to shield the former Office of the Prosecutor's (OTP) spokeswoman with their bodies. Following her arrest, Hartmann was taken to the Tribunal building, escorted by the police and the ICTY security.
Hartmann was arrested on the lawn in front of the Tribunal's building. The victims who had come to The Hague to hear the judgment in Karadzic's case and a number of journalists witnessed the arrest. After Hartmann was approached by two female security officers from the Tribunal, who tried to handcuff her, the former OTP spokeswoman was surrounded by the victims, who formed a circle around her, shouting, 'She's ours, we won't let you have her!'. Hartmann, who was visibly agitated, encircled by her friends, told the journalists that her human rights had been breached.
The tug-of-war between the victims on the one side and the Dutch police and the Tribunal's security officers on the other lasted about 15 minutes. One of the female security officers who took part in the arrest stated that she was 'fulfilling her mandate' by arresting Hartmann. After the police and the Tribunal's security managed to break through the circle, Hartmann was arrested and taken to the Tribunal's building. From there, she was most likely taken to the UN Detention Unit in Scheveningen.
Former ICTY chief prosecutor Carla del Ponte told the SENSE agency she was 'shocked' by the news of Florence Hartmann's arrest, 'especially since it happened on the historic day when the former Republika Srpska President Radovan Karadzic is due to hear his verdict'.
Florence Hartmann was convicted of contempt of court because in her book, Peace and Punishment, she made public 'confidential decisions of the Tribunal granting protective measures to the documents obtained from the FRY Supreme Defense Council'. On 16 November 2011, the Appeals Chamber converted the fine of 7,000 euros to seven days in prison, issuing a warrant for her arrest.
Photos