Home
KARADZIC WANTS STATUS CONFERENCE AND FRIDGE
Former Republika Srpska president on trial for double genocide and four joint criminal enterprises in BH has asked for a status conference. Karadzic wants to tell the judges about his recovery following gall bladder surgery, his blood sugar level and his inability to stick to his diet without a fridge in the Detention Unit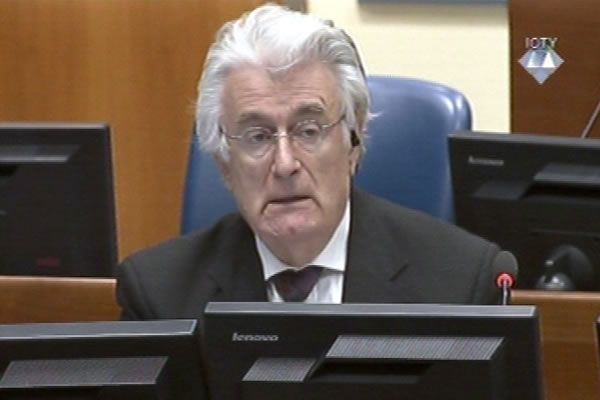 Radovan Karadzic in the courtroom
Radovan Karadzic has asked Judge Kwon's Trial Chamber to schedule a status conference in his case on 1 or 2 February 2016, when his legal advisor Peter Robinson will be in The Hague.
Karadzic is charged with double genocide and participation in four joint criminal – the persecution in 1992 which reached the scale of genocide in some municipalities, the artillery and sniper terror campaign against the citizens of Sarajevo, taking UN hostages and the genocide in Srebrenica. The trial began on 26 October 2009 and ended on 7 October 2014.
At this stage of the trial, after both parties have rested their cases and are awaiting the judgment, the Trial Chamber is not obliged to schedule status conferences every 120 days, unlike during the pre-trial and appellate stages in the proceedings. The accused has already filed a number of similar requests, with varying success. It remains to be seen if the Trial Chamber will be prepared to accommodate Karadzic this time, because he again lists the same issues that were already discussed at the last status conference on 29 September 2015.
In his motion, Karadzic notes that one of the topics should be his health: recovery after the gall bladder surgery in August 2015 and his elevated blood sugar levels; all those topics have already been discussed in court and the judges have told Karadzic he can write to the Trial Chamber at any time to keep them informed.
Karadzic also wants to discuss the conditions in the Detention Unit. At the last status conference Karadzic raised the same issue, complaining about the food in the Detention Unit and warning the judges about the ill health of the other detainees. Now, Karadzic wants to bring the judges' attention to the fact that Drago Nikolic, another inmate in the UN Detention Unit, has died of cancer in the meantime. Karadzic complains about another vital problem. He is on a diet, but cannot stick to it because there is no fridge in the Detention Unit cell where he could keep fresh vegetables and fruit. The Detention Unit administration has refused to allow Karadzic to have a fridge.
Karadzic also wants to discuss the prosecution's purported violation of the obligation to disclose documents to the defense. That topic has been addressed before in the course of the proceedings, too.