Home
KARADZIC: SOMETHING IS ROTTEN IN THE NURSING HOME ON NORTH SEA
Former Republika Srpska president fears that he could be the next victim of the 'catastrophic turn for the worse' among the Tribunal's 'fragile and old' detainees. Karadzic has called for an investigation by the UN and the World Health Organization to establish why there are so many malignancies and other illnesses in such a small population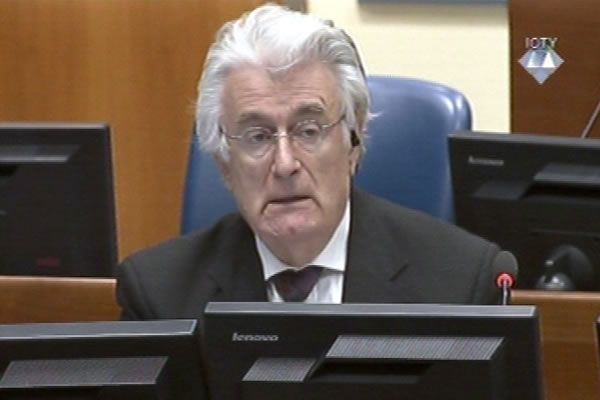 Radovan Karadzic in the courtroom
At a status conference that was scheduled at his request, Radovan Karadzic for the most part rehashed his usual complaints about his own bad health and the health in general among the detainees in the UN Detention Unit. In January 2015, when he was in court last, Karadzic voiced his concerns about the issue.
Karadzic today noted that he was in 'exemplary good health' when he arrived in The Hague, as a result of 'the care I had taken to live well, adhering to Christian customs and Eastern medicine…'. Then everything took a turn for worse: first, Karadzic's blood sugar level rose, then unexpectedly eight of his teeth broke. Some of Karadzic's teeth were crushed as he ate bananas. Finally, in August 2015 the accused ended up in hospital where he underwent an emergency gall bladder surgery.
As he did in January 2015, Karadzic today said that the reason for that was the food in the Detention Unit. This food might be suitable for 'young offenders' in the Dutch prison, but not for 'the fragile and elderly men from a different culture' in the UN Detention Unit. The unit reminded him of a 'nursing home' on the North Sea coast where no one was younger than 55, Karadzic explained. Most of the detainees are over 60, while some are 70 or older.
When the Trial Chamber granted Karadzic's motion for a status conference the judges specified that they 'will not discuss general questions unrelated to the health of the accused'. Karadzic nevertheless did find the way to express his concern over the general health situation in the Detention Unit. There was large number of malignant and other serious illnesses in such a small population, Karadzic explained. He was very much afraid he could be the next detainee whose health would 'undergo such a catastrophic turn'.In Karadzic's view, this might be caused by the food served in the Detention Unit, the materials used in its construction and/or 'some factors in the environment'. The United Nations, as the founder of both the Tribunal and its Detention Unit, should be concerned about it and launch an investigation and the World Health Organization should also be a part of it, Karadzic concluded.
When Judge Morrison asked Karadzic if he was able to engage in physical activities, the accused replied that he took regular walks and played tennis.
At the end of the half-hour status conference, the Trial Chamber was pleased to hear that the accused felt well and had recovered from the surgery. Yet, the judges noted that they didn't have the power to deal with the issues Karadzic raised. Karadzic was free to raise those issues with the Detention Unit management and the ICTY Registry. Eventually, Karadzic could submit his questions to the International Red Cross, which monitors the conditions in the UN Detention Unit.