Home
KARADZIC RECOVERING AFTER SURGERY
According to the medical documents, unsealed at Radovan Karadzic's request, on 27 August 2015 he underwent surgery to remove his inflamed gallbladder. The patient is feeling well after surgery, the Tribunal has stated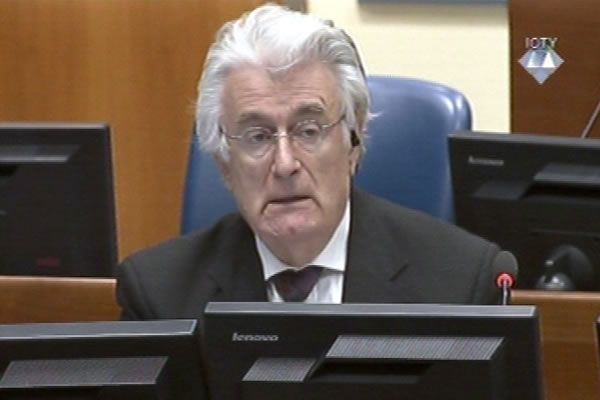 Radovan Karadzic in the courtroom
At Radovan Karadzic's request, the Trial Chamber has unsealed the documents concerning his health, including a report filed by the Detention Unit physician detailing Karadzic's health problems.
According to the report, on 24 August Karadzic sought medical help for abdominal pain. Dr. Paulus Falke prescribed antacids, but they did not help. Karadzic was unwell the next day again and had to cancel an appointment with his dentist "which is very unlike him", Dr. Falke remarked. Further tests revealed that the accused has an inflammation of the gallbladder.
Karadzic underwent surgery on Tuesday, 27 August. His gallbladder was removed and surgery went well. Karadzic remained in hospital overnight and the next day he was moved to the infirmary in the Detention Unit where he continued receiving antibiotics as part of his treatment. As indicated in the report, Karadzic is well, especially after he managed to contact his family, who were worried about his condition.
In his motion for the unsealing of his medical records, Karadzic thanked the judges for respecting his privacy, but he stressed his wish for the proceedings to be public. He also thanked the judges for their concern over his health and for intervening 'promptly' to ensure he received medical care on time.