Home
INTERACTIVE NARRATIVE 'STORM IN THE HAGUE' OPENS IN ZAGREB
SENSE Centre for Transitional Justice presents a new project, following in the footsteps of the Srebrenica Documentation Center which opened last year. 'Storm in The Hague' is an interactive narrative presenting the key elements of the prosecution and defense cases on five fundamental and contentious issues at the trial of the Croatian generals charged with crimes during and after Operation Storm in August 1995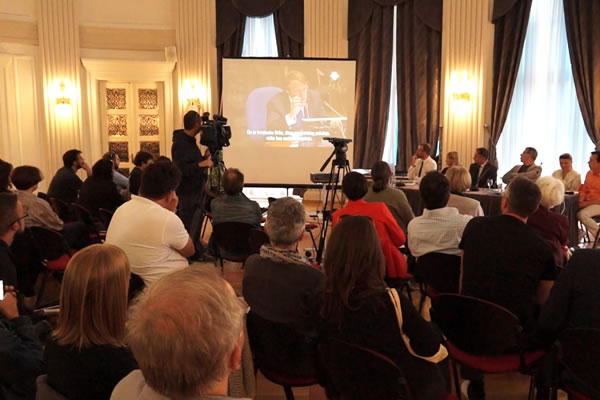 Presentation of the interactive narrative 'Storm in The Hague'
'Storm in The Hague', an interactive narrative, was presented today in the Journalists' Centre in Zagreb. The exhibition is staged by the SENSE Centre for Transitional Justice in Pula and the Serbian National Council (SNV), in collaboration with Documenta - Centre for Dealing with the Past. Mirko Klarin, director of SENSE, Milorad Pupovac, chairman of the SNV and Vesna Terselic, head of Documenta, spoke at the opening. Miralem Smajlovic director of the web presentation, said a few words about the contents and structure of the interactive narration.
Using the footage from the Croatian generals' trial for crimes during and after Operation Storm, the ample contemporaneous documentary material in audio and video format, authentic military orders, contemporaneous government and political documents, the interactive narrative presents the key arguments from the prosecution and defense cases corroborated by key exhibits. The arguments center on the five fundamental and contentious issues from the trial. The issues concern 1) Objective of Operation Storm; 2) Purpose of the shelling; 3) Murders; 4) Looting and destruction of property; 5) Efforts to prevent the refugees' return.
The interactive narrative 'Storm in The Hague' allows the viewers and readers to draw their own conclusions about the validity of the arguments presented by the parties on the contentious issues, but it also presents in full the judgments rendered by the Trial Chamber and the Appeals Chamber of the ICTY and by the International Court of Justice.
The trial for the crimes committed during and after Operation Storm is one of the most controversial trials in the twenty years of the Tribunal's existence, primarily because the two chambers used the same facts but applied different legal standards to reach diametrically opposite conclusions regarding the guilt of the accused Croatian generals. These findings do not bring into question the established facts about the events during and after Operation Storm. These facts were confirmed in the judgment rendered by the International Court of Justice.