Home
PROSECUTION WILL REOPEN ITS CASE TO CALL TOMASICA EVIDENCE ON 22 JUNE 2015
In the case against Ratko Mladic, the Trial Chamber has decided that the prosecution's case concerning the Tomasica mass grave near Prijedor is to begin on 22 June 2015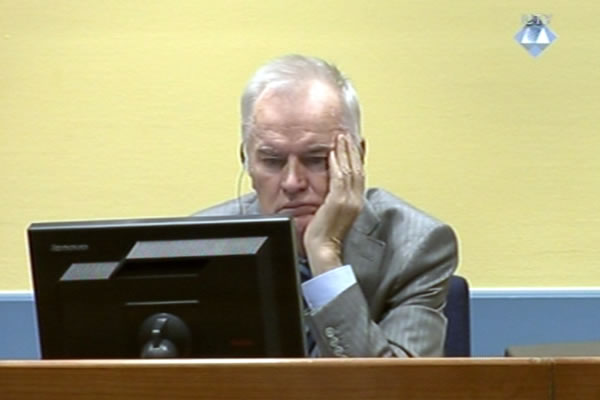 Ratko Mladic in the courtroom
In the case against Ratko Mladic, the Trial Chamber has decided that the prosecution is to reopen its case to call evidence on the Tomasica mass grave near Prijedor on 22 June 2015. According to the schedule, the prosecution has until 17 July 2015 to call its evidence: until the beginning of the Tribunal's summer recess. In Mladic's case, the recess ends on 10 August 2015.
Before the prosecution's case reopens, there will be a one- month break in the trial, from 22 May to 22 June 2015. This will allow the defense to make additional preparations to respond to the prosecution's Tomasica evidence. Also, it has been noted in the decision, the defense will be able to use the one-week break in the trial after the Orthodox Easter on 12 April 2015.
In October 2014, the Trial Chamber granted the prosecution's motion to reopen its case in order to call the evidence on the Tomasica mass grave. The evidence was not available to the prosecution during its case. The grave with several hundred bodies was discovered in the Tomasica mine in November 2013. The prosecution has indicated that during the mini-case it will call seven factual witnesses and six experts.
The defense asked for three-and-a-half month break at the trial to prepare its case to counter the prosecution's Tomasica evidence. According to the defense's proposal, the defense case of the accused General Mladic should continue until 1 May 2015, when the trial was to be suspended until 16 August 2015.