Home
LARKS' DIRTY JOBS
Former agent in the Bosnian secret service Edin Garaplija testified at the trial of Ratko Mladic. He was summoned to appear before the Tribunal by the judges who issued a binding order. Garaplija talked about the operations of a paramilitary unit called the Larks. According to the witness, the unit was involved in assassinations, planting explosives, sniper operations and other 'dirty jobs' for which the Serb side was blamed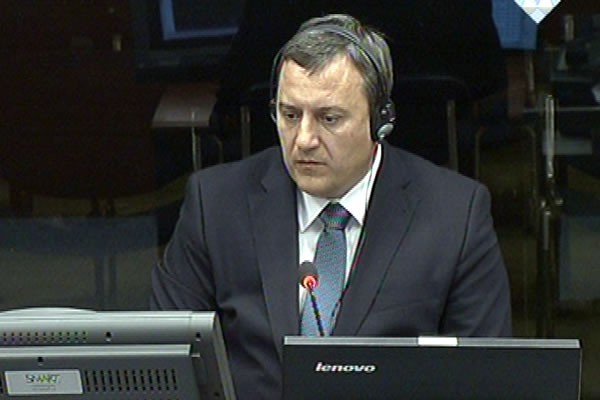 Edin Garaplija, defence witness at Rako Mladic trial
In his evidence at Ratko Mladic's trial, former agent of the Bosnian secret service Edin Garaplija spoke about the 'dirty jobs' carried out by the paramilitary unit called the Larks. The witness learned about those activities when he took part in an operation targeting Nedzad Herenda. Herenda was placed under surveillance, arrested and interrogated for three days. The operation was codenamed Eagle. It was carried out in May and June 1996. In 2013, when he appeared as a witness at the trial of Radovan Karadzic, Garaplija was compelled to testify by the Trial Chamber which issued a binding order. Another order was issued to compel him to testify at this trial. Through Garaplija's evidence the defense is trying to bolster its case: according to the defense, the Bosnian side killed its own citizens in Sarajevo and then blamed Serbs for their deaths.
Garaplija claimed that the Larks unit was responsible for the killing of French UN peacekeepers, for an attempt on Sefer Halilovic's life and for the killing of Bosko Brkic and Admira Ismic, the Sarajevo Romeo and Juliet. Sefer Halilovic's wife and her brother were killed in the attempted assassination. Brkic and Ismic were killed when they tried to cross the Vrbanja Bridge. The Larks also opened fire at police officers who were trying to arrest Musan Topalovic Caca as well as at civilians on both the Serb and the Bosnian sides, Garaplija noted. According to the witness, the members of the Larks unit were also responsible for the attempted assassination of Ismet Bajramovic Celo.
As he was questioned by defense counsel Dragan Ivetic, the witness said that the Serb side had mostly been blamed for those incidents. Asked why he decided to testify in The Hague, Garaplija said he wanted 'the truth to be known'.Those who committed the crimes should be held responsible for them, he added. This prompted Judge Orie to ask Garaplija why then it was necessary to issue a binding order to get him to testify. Garaplija said he didn't want the media to paint him as a witness who testified in the defense of Karadzic and Mladic.
The prosecutor argued that the witness's allegations couldn't be considered credible. In 1996, Garaplija and his two colleagues were arrested and put on trial for Herenda's kidnapping, abuse and attempted murder. Since 1998, the witness has been accusing everyone, including his own lawyer, the judges, the Tribunal's experts and his former colleagues in the police, of a conspiracy against him. Garaplija claimed that the motive for the conspiracy was to prevent Garaplija from making public Herenda's information about the Larks' activities.