Home
DELETED FROM TAPES AND WITNESS MEMORY
Nedjo Jovicic, Ljubisa Borovcanin's former chauffer, described what Ratko Mladic did and how he 'shouted and swore' in July 1995. The prosecution tried to establish what had been deleted from the footage Zoran Petrovic Pirocanac had taken in the field near Sandici and in front of the Kravica warehouse. Pirocanac rode in the car driven by Jovicic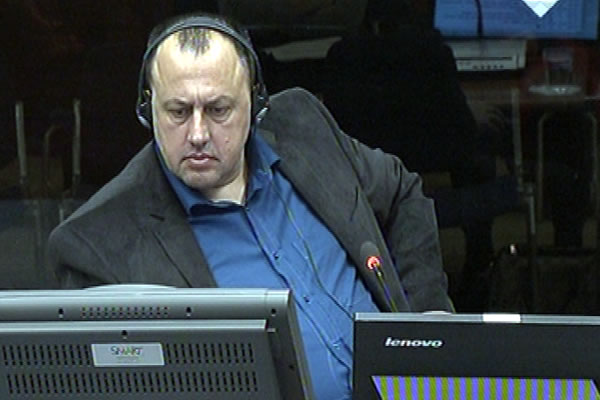 Nedjo Jovicic, defence witness at Rako Mladic trial
As Ljubomir Borovcanin's chauffer, between 11 and 13 July 1995 Nedjo Jovicic visited several locations where, as alleged in the indictment against Ratko Mladic, mass killings were being prepared or carried out. Borovcanin was the commander of the Republika Srpska Special Police Brigade which had taken part in the Srebrenica operation.
According to the summary of the statement, en route to Potocari on 12 July 1995, Jovicic and Borovcanin met Mladic who 'shouted, swore and accused them of being thieves'. Mladic ordered some of Borovcanin's men to go to Potocari to assist the police there. Another element was directed to go towards Zvornik. The second time Jovicic and Borovcanin met Mladic was in Potocari. There, Jovicic argued, Mladic 'insisted' that food and drinks be distributed to the refugees who had gathered there. The next day, the witness saw Mladic talking to a group of prisoners in a field in Sandici. Mladic then said that women and children were being transported to Kladanj and Tuzla. Mladic told the prisoners that they would also be transferred there later.
On 13 July 1995, journalist Zoran Petrovic Pirocanac joined Jovicic and Borovcanin. Pirocanac filmed the capture of Muslims in the field in Sandici. From there the Muslim prisoners were taken to Bratunac to be transferred to the locations where they were executed. The bodies of Muslims killed in front of the warehouse in Kravica were also recorded on tape.
Jovicic was present all the time when Pirocanac filmed the events. This prompted prosecutor McDonald to try to establish what had been recorded in the parts of the footage that the Belgrade journalist 'accidentally deleted' on the tapes the prosecution has in its possession. In particular, the prosecutor wanted to learn about the two erased shots, one from the field in Sandici when the camera zoomed in on a group of prisoners followed by 50-second dimming of the frame. The second part is a shot of Kravica that was taped over with a 21-second shot showing soldiers having their lunch break. The deleted shots from the Sandici footage have never been recovered. A report broadcast by the Studio B network showed two or three seconds of the footage with a pile of bodies in front of the warehouse in Kravica. The prosecution alleges that the footage was deliberately removed because it showed 'dramatic and incriminating scenes'. Although he was present when the footage was taken, Jovicic claimed that he 'absolutely cannot remember' seeing 'any violence' in the field near Sandici. As far as Kravica was concerned, Jovicic noted that he only saw what was seen in the several seconds of the preserved film: a pile of bodies in front of the entrance to the warehouse. Jovicic said that he didn't know what was recorded in the missing 21 seconds of Pirocanac's footage.