Home
UNPLEASANT MEMORIES
Witness Dusan Micic doesn't remember much about the Srebrenica operation apart from Ratko Mladic handing out food and cigarettes in Potocari. Micic rejected the prosecutor's suggestion that such memories were unpleasant because he didn't want to become involved in anything related to the Srebrenica crimes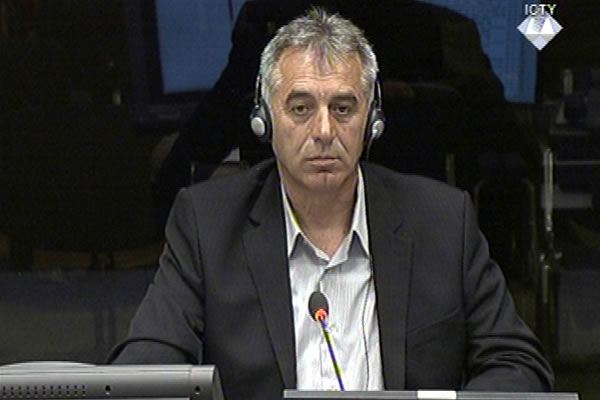 Dusan Micic, defence witness at Rako Mladic trial
As the commander of the Special Police elite platoon, Dusan Micic took an active part in the VRS operations in Srebrenica in July 1995. In his statement to the defense Micic said that on 12 July 1995 he saw Mladic in Potocari hand out food and cigarettes to Muslims. Micic hardly saw anything else.
Micic claims that he did not see men being separated from women and children in Potocari, or anyone being mistreated. On 12 July 1995, Micic went to Bratunac and then to Sandici to secure the route from Bratunac to Konjevic Polje. There, the witness also didn't see anything until the afternoon of 13 July 1995, when he saw a group of about 50 or 60 captured Muslims on the road.
Micic spent the night of 13 July 1995 in Bratunac. At the time Bratunac was crammed full of Muslim prisoners. Many Muslims were killed that night but Micic didn't see or hear anything. In the morning of 14 July 1995, the witness saw trucks and buses heading in the direction of Konjevic Polje. A day later, on 15 July 2015 the witness's platoon was sent to the Baljkovica sector, where they fought the column of Muslims who were trying to break through to Tuzla. According to the witness, 80 Serb soldiers were killed in the fighting and about 100 were wounded.
In the cross-examination, prosecutor Carolyn Edgerton noted that the fighting in the Baljkovica region stopped when an agreement was reached to open up a corridor to allow thousands of Muslims to pass through. Micic confirmed that opening of the corridor reduced the number of Serb casualties to a minimum, in light of the much greater number of the 28th Division soldiers who were trying to break through to Tuzla.
Micic didn't remember being involved in the mop-up operation to pick up the Muslim stragglers after the corridor was closed. The prosecutor suggested that he wanted to block out those unpleasant memories because he did not want to be involved in anything that had to do with the Srebrenica crimes, Micic replied that he simply 'cannot remember'.
After Micic completed his evidence, the defense called Milorad Pelemis, former commander of the 10th Sabotage Detachment. Members of Pelemis's unit were responsible for the execution of about 1,000 Muslim prisoners in Branjevo on 16 July 1995.