Home
HADZIC'S PROBLEMS WITH PSYCHOLOGIST
Goran Hadzic wants to put a stop to any contacts with the Detention Unit Dutch psychologist. According to Hadzic, the psychologist has told him to use his 'faith in God' to 'obtain the strength to attend the trial' instead of 'fighting cancer"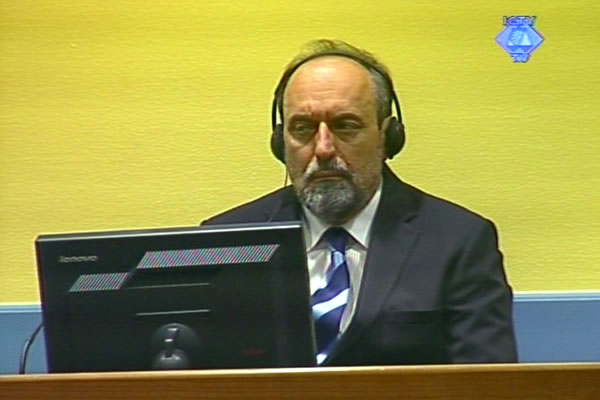 Goran Hadzic in the courtroom
The defense of Goran Hadzic, former prime minister of the Serb Autonomous Region of Eastern Slavonia, had asked the ICTY Registry to ensure the UN Detention Unit psychologist have no further contact with the accused.
The reason is an exchange Hadzic allegedly had with a Dutch doctor while recovering from the first round of chemotherapy for brain tumor. On the first visit Hadzic mentioned "his faith in God and the support his faith provides in fighting cancer". The psychologist allegedly told him to 'collect his spiritual energy and faith in God to obtain the strength to attend the trial'.
In the defense's view, this 'exhortation' was 'deeply inappropriate... and coercive', in light of Hadzic's vulnerability. Why is the psychologist 'concerned with Hadzic's attendance at the trial' or did she make this suggestion at anyone's prompting, the defense asked. The medical treatment of Hadzic's brain tumor, which is terminal, is affecting him tremendously,and the psychologist, when she tried to pressure him in this manner, crossed the boundaries of her expertise, and acted in an "unprofessional and legally unacceptable manner'.
In the same document, the defense stresses that Hadzic's words were misinterpreted in the UN Detention Unit medical doctors' report. When doctors asked Hadzic how he felt, he purportedly replied that he felt 'rather well'. His reply was "no more than a pleasantry" not "a reflection of health condition or feelings of well-being".
Finally, the defense notes that the fact that Hadzic does not have access to a psychologist who is fluent in Serbian constitutes a 'serious deficiency' in terms of support and care thatHadzic needs at 'this difficult time'.
Hadzic's trial for crimes against humanity and violations of laws and customs of war in Eastern Slavonia and later in the Republic of Serbian Krajina was suspended in October 2014 just after the defense opened its case. In November 2014, Hadzic was diagnosed with brain tumor. Later this month Hadzic should continue a course of chemotherapy. In the meantime, he filed a motion for urgent provisional release. The Trial Chamber's decision on the motion is pending. The experts have examined the medical records at the behest of the Trial Chamber and have submitted their report. Hadzic is 'in no way able to take part in the proceedings', the experts have stated in the report. For the time being, Hadzic has not allowed the trial to continue in his absence.