Home
WHY JUDGE NIANG OPPOSED SESELJ'S RELEASE
Last week the Senegalese judge opposed the decision to provisionally release Vojislav Seselj. In the separate opinion Judge Niang states that the accused should have made a commitment that he would comply with the conditions for provisional release. In Judge Niang's opinion, the Tribunal should have secured Seselj's return to The Hague when it becomes necessary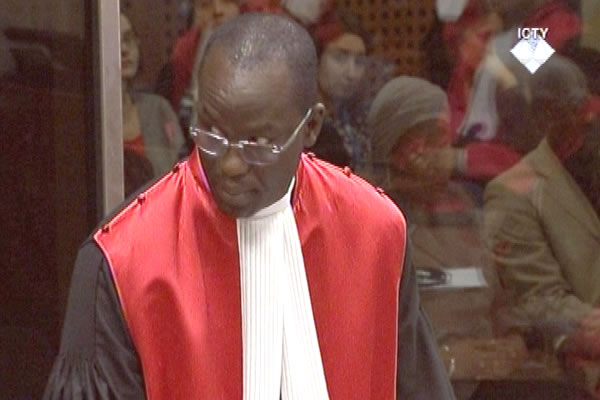 Mandiaye Niang, judge in the Tribunal
Last week the majority in the Trial Chamber decided to provisionally release Vojislav Seselj for humanitarian reasons pending his trial judgment. Judge Mandiaye Niang's separate and dissenting opinion was disclosed at the Tribunal today. He disagrees with his colleagues Antonetti and Lattanzi.
The judge from Senegal stressed that he was aware of the fact that Seselj was seriously ill. Because of the 'differences in opinion'between the doctors and Seselj, he has not been receiving the best medical care, Judge Niang noted.
However, unlike his colleagues Antonetti and Lattanzi, Judge Niang holds that the accused should have stated whether he intended to comply with the conditions for provisional release, particularly in light of the fact that in the past Seselj had 'refused to commit to comply with requests', Judge Niang stressed.
In Judge Niang's view, the 'actual role of the Serb authorities remains unclear'. The Serb authorities 'are not obliged to do anything'to prevent Seselj from influencing the victims and witnesses and to secure Seselj's return to The Hague once his judgment is to be rendered.
Vojislav Seselj is charged with crimes against humanity in Croatia, Vojvodina and Bosnia and Herzegovina. The trial judgment was initially slated for 30 October 2013, but was postponed when Danish judge Harhoff was disqualified from the Trial Chamber at Seselj's request. Judge Niang, appointed in Judge Harhoff's stead, indicated that he could not familiarize himself with the case before mid-2015, to be able to join the deliberations.