Home
'PLAYFUL SOUL' OR 'SERIOUS GENTLEMAN'
Through the evidence of Karmen Brlic Jovanovic, a journalist working for the Vukovar radio, the defense contests the allegation that Goran Hadzic wrote poetry or that he 'stood out in any way or imposed his opinion'. A poet 'should be a playful soul, not a serious gentleman' such as Hadzic, the witness stressed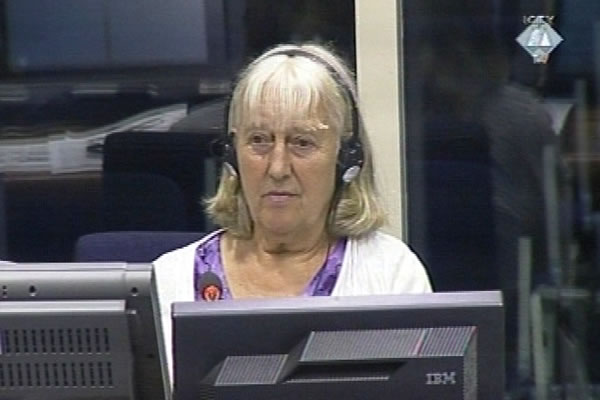 Karmen Brlic Jovanovic, defence witness at Goran Hadzic trial
The defense of Goran Hadzic, former prime minister of the SAO Eastern Slavonia, continued its case with the evidence of Karmen Brlic Jovanovic. From the early 1970s to 24 August 1991 the witness worked as a journalist for the Vukovar radio station. Brlic Jovanovic was the host of Nedeljom u 10, a regular Sunday program. Occasionally, the witness hosted local poets in her radio show.
Through testimony the defense is tryingto contest the evidence of Samira Baranjek, who testified for the prosecution. Baranjek claimed that the former SAO Eastern Slavonia prime minister presented his poetry in Radio Vukovar broadcasts and that he visited her late husband's atelier, where the two of them 'looked at paintings and read poetry'. Baranjek claims those visits made it possible for her to recognize Hadzic in the primary school in Borovo Selo on 19 and 20 November 1991. According to Baranjek, Hadzic asked about her husband on that occasion. The witness never saw her husband alive after that.
Brlic Jovanovic confirmed that poet Branko Kovacevic was a guest in her Sunday radio show Nedeljom u 10. According to the defense, Kovacevic looked like Hadzic. Also, Brlic Jovanovic noted with a smile that a poet 'should be a playful soul, not a serious gentleman' such as Hadzic. She also said that she interviewed Hadzic after his arrest in Plitvice on 31 March 1991. According to Broic Jovanovic, Hadzic was a politician 'who favored compromise and negotiations'. He didn't 'stand out in any special way or impose his opinion'. Also, Hadzic wanted to remove weapons 'that instilled fear' and to 'control individuals that didn't behave appropriately in a civilian environment'.
The witness went on to describe how on 12 November 1991 she and about 100 civilians were evacuated to the Velepromet warehouse. Two days later they were all transferred to nearby Sid, on the other side of the border. Brlic Jovanovic returned to Vukovar three times, on 16 and 26 November and on 21 December 1991. Each time she needed official passes, the witness explained, and she got them from the former JNA officers in Sid. According to the defense, the passes confirm the defense's case that the 'JNA was the organization that had total control of the area'.
In the cross-examination the prosecutor put it to the witness that she knew Hadzic only as a politician and that she knew nothing about his hobbies such as 'reading poetry', 'dog training' and martial arts. Also, the prosecutor asked the witness if she knew that her colleagues Sinisa Glavasevic and Branko Polovina were killed in the night of 20 November 1991at the Ovcara farm, together with 200 other persons brought there from the Vukovar Hospital. Brlic Jovanovic replied that she had heard about 'only recently'.
Goran Hadzic's trial continues tomorrow with the evidence of a new defense witness.