Home
SESELJ'S TRIAL CHAMBER FINALLY COMPLETE
With the appointment of Senegalese judge Mandiaye Niang, the Trial Chamber in the case of Vojislav Seselj has finally been completed. For the past two months, Seselj's Trial Chamber was incomplete because of the disqualification of Danish judge Frederik Harhoff. Now, the Trial Chamber can decide on the further course of the Seselj case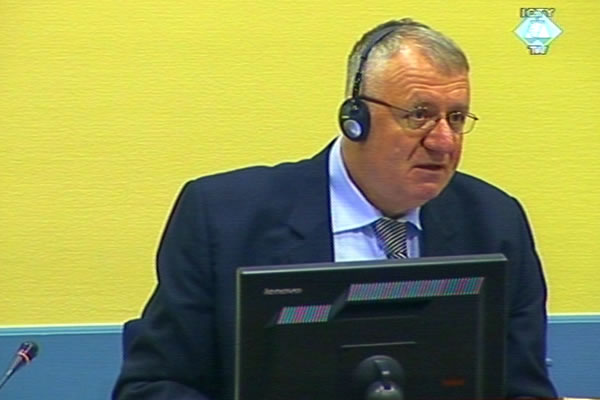 Vojislav Seselj in the courtroom
Tribunal's Vice-president Carmel Agius has appointed Judge Mandiaye Niang of Senegal to the Trial Chamber hearing the case against Vojislav Seselj. The Serbian Radical Party leader is charged with crimes against humanity in Vojvodina, Croatia and Bosnia and Herzegovina.
Seselj's trial proceeded before the Trial Chamber headed by Judge Jean Claude Antonetti. It also comprised two ad litem judges, Frederik Harhoff and Flavia Lattanzi. However, after a newspaper published Judge Harhoff's private letter in June 2013, Seselj filed a motion to disqualify the judge because of Judge Harhoff's alleged bias in favor of the conviction of the accused. In his letter, Judge Harhoff expressed his concern over the Tribunal's 'new course'. On 29 August 2013, the specially appointed panel granted Seselj's motion with a majority vote, with Judge Liu dissenting, and disqualified the Danish judge. The majority confirmed the decision on 7 October 2013 when it dismissed the prosecution's request for the reconsideration of its previous decisions.
In the decision to appoint a new judge, Vice-president Agius notes that, in his view, the Trial Chamber should now consult with the accused to see whether they should "re-hear the case" or to continue the trial with the new judge. However, the final decision will be up to the Trial Chamber.
The Senegalese judge Niang was appointed a permanent judge of the International Criminal Tribunal for Rwanda on 11 September 2013. Yesterday, Judge Niang was sworn in before his colleagues from the Appeals Chamber that also deals with the cases before the International Criminal Tribunal for the former Yugoslavia. Judge Niang has served as the regional representative of the United Nations Office for Drugs and Crime in Southern Africa. At the Rwanda Tribunal, Judge Niang worked as a senior legal advisor to the Trial Chamber judges and as a special assistant to the Registrar.