Home
NO 'SAFE CONDUCT' FOR KIJAC
The Trial Chamber has denied the request of Karadzic's defense for a safe conduct order for former Republika Srpska top police official Dragan Kijac, to guarantee that he would not be arrested en route to The Hague. The evidence provided by Karadzic's defense didn't convince the Trial Chamber that Kijac could face criminal prosecution in BH. At the same time, the judges granted Karadzic's motion to add two witnesses to his list: a protected witness and former defense minister of Serbia and Montenegro, Prvoslav Davinic. The latter will testify about the crimes in Sarajevo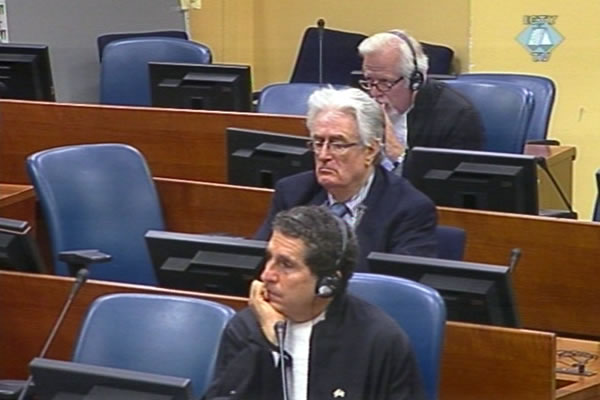 Radovan Karadzic in the courtroom
Judge Kwon's Trial Chamber has denied Radovan Karadzic's motion in which he asked for a safe conduct order for a potential defense witness, Dragan Kijac. A safe conduct order offers a guarantee that the bearer will not be arrested en route to The Hague. Karadzic had indicated that Kijac, who was the chief of Republika Srpska State Security Service during the war, and later Republika Srpska interior minister, would testify about the causes of the conflict in BH and what he did and didn't know about the Srebrenica massacre.
In its decision the Trial Chamber notes that the defense has failed to provide any specific information as to why safe passage might be granted to the witness. The Trial Chamber recalls that Karadzic in his motion stated that there are concerns that Kijac, currently residing in Serbia, 'may be prosecuted by the Court of Bosnia and Herzegovina'. Karadzic added that he 'believes these concerns are well founded' given that during and after the war the witness was high-ranking police official. Karadzic did not state that an indictment was issued against Kijac or why this could happen at all. The Trial Chamber could thus only decide there were no grounds to grant the defense's motion.
Even as the Trial Chamber rejected this motion, it granted Karadzic's request to add two names to the witness list pertaining to the 'Sarajevo part' of the indictment. The first additional witness is former defense minister of Serbia and Montenegro, Prvoslav Davinic. He will testify about the period from 1992 to 1995 when he was the head of the UN Center for Disarmament Affairs in New York. Davinic will give evidence about his contacts with the accused Karadzic in relation with the second massacre at the Sarajevo Markale market in August 1995. The second witness is protected and was referred to as Witness C. In his evidence this witness is expected to describe how he intercepted the conversations in which BH president Alija Izetbegovic and his associates made plans to blame the Serbs for the artillery incidents in Sarajevo and thus force an international intervention.
In its decision the Trial Chamber states that the evidence of the two witnesses is indeed relevant for the Sarajevo component of the indictment against Karadzic. The accused has shown good cause that he has not been able to obtain the evidence at an earlier stage of the proceedings. The accused did not know Witness C until the beginning of 2013. Davinic refused to be interviewed by the defense team until August 2013 because several criminal investigations were launched against him in Serbia. Davinic was accused of fraud and abuse of office in several cases involving millions of euros but was acquitted.
The defense case continues on 29 October 2013.