Home
KARADZIC TRIAL SUSPENDED UNTIL 28 OCTOBER 2013
The Trial Chamber has rejected Karadzic's request for severance of Count 1 in the indictment but has granted him additional time to locate and prepare defense witnesses. Karadzic now needs to find witnesses who will contest the prosecution case on genocide in the seven municipalities in Bosnia and Herzegovina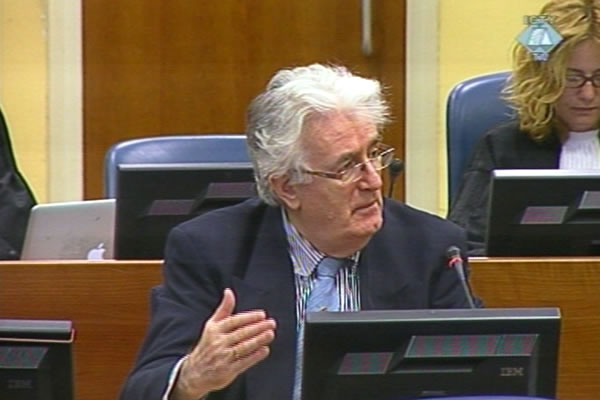 Radovan Karadzic in the courtroom
Judge O-Gon Kwon's Trial Chamber has rejected Karadzic's request for the severance of Count 1, which charges Karadzic with genocide in seven municipalities in Bosnia and Herzegovina, from the indictment. Karadzic wanted to be tried separately on that count after the Trial Chamber has returned the verdict on the remaining 10 counts. The indictment charges Karadzic with ethnic cleansing of large areas of BH, the artillery and sniper terror campaign in Sarajevo, the genocide in Srebrenica and taking UN staff hostage.

After the prosecution rested its case, the Trial Chamber acquitted Karadzic of genocide committed in 1992 in Bratunac, Foca, Kljuc, Prijedor, Sanski Most, Vlasenica and Zvornik. The Appeals Chamber reversed the decision and reinstated Count 1 of the indictment. The former Republika Srpska president then asked for this count to be severed from the indictment. The reinstatement of the count, Karadzic argued, would extend the trial for at least six to seven months. If the judges decided to retain the count in the indictment, Karadzic asked for the suspension of his trial for four months. This would allow the defense to identify and prepare the witnesses to contest the charge of genocide in the municipalities and the role of the accused in it.
The Trial Chamber has rejected Karadzic's first request, for the severance of Count 1, but has granted in part his second request. The judges have ordered the suspension of the trial for two – instead of four – months to allow the defense to prepare its case for the genocide charges.

The decision does not indicate whether Karadzic will get additional time to examine the witnesses and call other evidence to contest the genocide charge, on top of the two months for preparation. The Trial Chamber only notes that the accused has spent about 230 of a total of 300 hours allotted for the defense case. If Karadzic doesn't get additional time, he will have about 70 hours to for his case. Karadzic has already called 173 witnesses. On average he took about 80 minutes to examine each witness. If Karadzic continues at the same rate, he could examine about 50 witnesses in the remaining 70 hours.