Home
KARADZIC SEEKS 'SAFE PASSAGE' FOR DRAGAN KIJAC
The former chief of the State Security Service and the Republika Srpska police minister fears he may face prosecution in BH. Radovan Karadzic has asked the Tribunal to issue guarantees that the witness will not be arrested as he travels to The Hague where he is expected to testify in the defense of the former president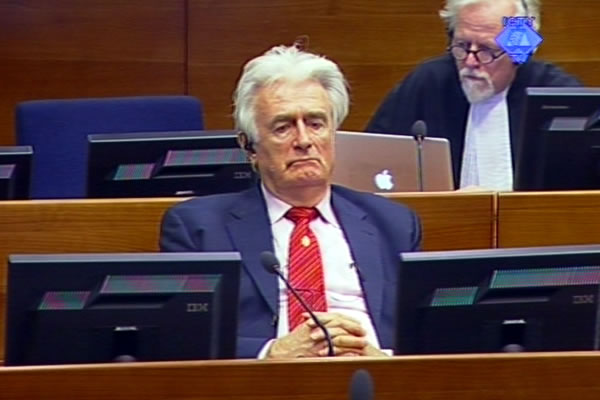 Radovan Karadzic in the courtroom
The first witness to appear after the three-month break at the trial of Radovan Karadzic is expected to be Dragan Kijac, former high-ranking police official in the Bosnian Serb MUP. Kijac fears he may be arrested and extradited to BH, and the defense has filed a request for the so-called safe passage which may be granted in line with the Tribunal's rules in some circumstances.
In his request, Karadzic notes that the potential witness fears he might be arrested based on a war crimes indictment that may have been issued against him in Sarajevo if he leaves his current place of residence in Serbia. The defense therefore seeks guarantees that Kijac will not be 'arrested, detained, subject to criminal prosecution or any other form of physical or legal restraint' on his travel, during his stay in The Hague and on his way back to Serbia.
Dragan Kijac's colorful police career began in the former Yugoslavia and ended with him serving as the chief of Republika Srpska State Security in the last year of the war. After the war Kijac was appointed the police minister in the entity. In the summary of his statement to the defense team Kijac focused on the first incidents in Sarajevo before the war. Kijac blamed the 'Muslim police' and the 'Green Berets' unit for the incidents. There is a brief mention of the fact that Kijac knew about the evacuation of civilians from Srebrenica in July 1995. Despite the fact that he was the top official in the State Security Service, Kijac didn't know anything about the mass executions of the prisoners.
Kijac's allegations are in line with Radovan Karadzic's defense case so far:Karadzic has been trying hard to direct the attention mostly to the period before the war and its very beginning, to lay the blame for the first incidents on Muslims and to mention the events listed in the indictment only 'in passing'. In the cross-examination the prosecution as a rule does the opposite, devoting most of the time to the time relevant for the indictment; Kijac will probably be cross-examined in detail about what he knew about the Srebrenica massacre in July 1995. This, of course, provided that the defense's request for 'safe passage' is granted and that the witness actually appears before the court.
In addition to Kijac, Karadzic's witness list until the end of 2013 contains 19 names, including Tomislav Kovac, Miroslav Toholj, Vojo Kupresanin, Nikola Poplasen and some people accused and convicted by the Tribunal: Momcilo Krajisnik, Radislav Brdjanin, Milomir Stakic, Zdravko Tolimir, Ljubisa Beara, Mico Stanisic, Vujadin Popovic, Radivoje Miletic, and finally Ratko Mladic.