Home
BROTHERS IN ARMS
In his testimony at the trial of Radovan Karadzic, former commander of the VRS 65th Motorized Protection Regiment Milomir Savcic paid homage to the Bosnian Serb military and police officers convicted of genocide and other crimes in Srebrenica, calling them his 'brothers in arms'. The only exception was the former Drina Corps commander Radislav Krstic because he 'fabricated' the claim that Savcic's regiment had participated in the executions of the men from Srebrenica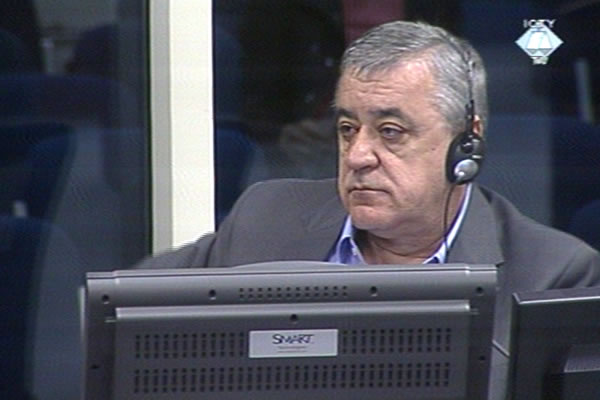 Milomir Savcic, defence witness of Radovan Karadzic
In his evidence at the trial of Radovan Karadzic, former commander of the VRS 65th Motorized Protection Regiment Milomir Savcic said he considered Colonel Vujadin Popovic, other Srebrenica Seven officers and General Zdravko Tolimir as his 'brothers in arms'. 'They were my war comrades, some of them were even my friends', Savcic said, adding that he 'respect[s]' them.
However, Savcic obviously doesn't have the same respect for Radislav Krstic. As Savcic said today, when Krstic, former Drina Corps commander, was interviewed by the OTP investigators in 2000, he described the role of the 65th Protection Regiment in the events in Srebrenica in July 1995 in a way that was 'utterly untrue'. According to Savcic, Krstic's claim that the soldiers from that regiment participated in the execution of the men from Srebrenica was a 'complete fabrication'.
In July 1995, Savcic was the immediate superior of Zoran Malinic, the military police battalion commander in Nova Kasaba. Savcic admitted that Malinic informed him on 13 July 1995 that he had about 1,200 Muslim prisoners. Prosecutor Julian Nicholls asked Savcic if he agreed that those men were all killed by 17 July 1995. Savcic admitted only that the prisoners were transferred to Bratunac on Ratko Mladic's order.
It was only after Judge Kwon intervened that Savcic said, 'I now know and accept' that the prisoners were killed. He purportedly learned about the executions 'many years' after the events, when the media published Krstic's interview with the OTP investigators. It is interesting to note that Karadzic has recently sought to tender that interview into evidence. Savcic on the other hand expressed doubts about its accuracy.
Prosecutor Nicholls brought up several intercepted conversations between Savcic and Malinic on 13 July 1995 about the prisoners in Nova Kasaba. He also showed some documents, including the order to prevent information leaks about the prisoners of war: the order was signed on 15 July 1995 by Savcic's deputy Jovo Jazic. The order prohibited journalists from entering Srebrenica and Zepa. Savcic argued the order was in line with the military rules and even with the Geneva Conventions which stipulate that prisoners should be protected from the 'curiosity of the public'. This including taking aerial photos of them.
The prosecutor then showed Savcic an aerial photo of the stadium in Nova Kasaba taken on 13 July 1995. The photo shows the prisoners who were killed in the next four days. As the prosecution alleges, the order to prevent the information leaks was issued to cover up the detention, transfer, execution and burial of the Muslims from Srebrenica. But, the prosecutor noted, the VRS eventually 'could not contain the story'.
After Savcic completed his testimony, Karadzic called Franc Kos as his next witness. Kos was a soldier in the 10th Sabotage Detachment and is now serving a 35-year sentence in BH for his part in the execution of the prisoners at the Branjevo farm near Zvornik.