Home
PROSECUTION: TRIBUNAL IS FOR THE LIVING NOT THE DEAD
In a response to the motion for a review filed by the defense of the late Rasim Delic, the prosecution argues that the Tribunal has jurisdiction over the accused and convicted persons who are alive, not the deceased. The defense of Rasim Delic, former commander of the BH Army Main Staff, has called for a review of his judgment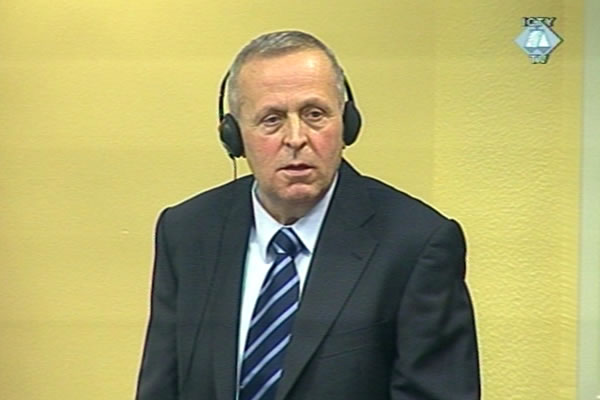 Rasim Delic in the courtroom
Following the public disclosure of Judge Harhoff's letter, the defense of the late commander of the BH Army Main Staff Rasim Delic submitted a motion for a review of Delic's judgment. In the letter, Judge Frederik Harhoff expressed his concern over the Tribunal's 'new course'. In the judgment, Delic was found guilty because he failed to prevent or punish the Mujahideen's cruel treatment of the captured Serb soldiers in July and August 1995. Delic was sentenced to three years in prison.
Delic's defense counsels Vasvija Vidovic and John Jones noted in their motion that Judge Harhoff demonstrated in his letter 'unacceptable bias' vis-à-vis the persons accused by the Tribunal as he blamed the recent acquittals on 'the Israeli and American machinations'. According to the defense, Judge Harhoff's letter has cast doubts on the decisions and the actions of Theodor Meron, the presiding judge in the Appeals Chamber, who is, as the defense describes him, a judge of 'unimpeachable international reputation and renown'.
In the response to Delic's defense motion, the prosecution notes that the Tribunal has jurisdiction only over the accused and convicts who are still alive, not those who are deceased. Under the Tribunal's Statute, only the convicted persons and the prosecution may file a motion for review, the prosecution notes. According to the prosecution, since Delic is no longer among the living, the motion submitted by his defense is not valid and shouldn't be considered.
The prosecution also notes that the defense motion failed to state any 'exceptional circumstances' that would justify a review of Delic's judgment. In his letter, Judge Harhoff 'simply expressed his personal opinion that military commanders should be held responsible for the crimes of their subordinates', the prosecution states. According to the prosecution, Judge Harhoff's concern for other cases before the Tribunal doesn't reflect his bias in the Delic case.