Home
EAR-WITNESS OF THE EXECUTION IN KRAVICA
Milenko Pepic testified at Ratko Mladic's trial. When prisoners were executed in Kravica, Pepic was manning a check point at the Zuti Most bridge nearby. Pepic heard 'intense gunfire' from the direction of Kravica. That night, his commander told him that what had happened in Kravica 'isn't a good thing' and that 'sooner or later someone will be held responsible for what was done'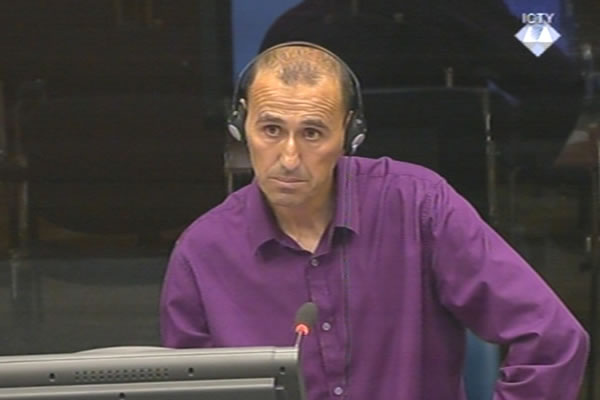 Milenko Pepic, witness at the Ratko Mladic trial
Milenko Pepic, former member of the 2nd Sekovici Detachment of the Special Police Brigade, gave evidence at the trial of Ratko Mladic. Pepic was accompanied by his lawyer Vladimir Petrovic in court. The Trial Chamber rejected Petrovic's request for the deletion of 'incriminating parts' from the statement Pepic gave the BH authorities in 2005 and from the transcript of his evidence before the Tribunal in 2007
On 13 July 1995, Pepic was manning his position on the road from Bratunac to Konjevic Polje. He saw the captured Muslims in a meadow near the village of Sandici. His detachment commander, Rade Cuturic a.k.a. Oficir, told Pepic 'with a smile on his face' that an order had come to transfer the detainees to Kravica. Cuturic ordered the witness to stop the buses carrying women and children from Potocari at the Zuti Most bridge. The witness complied.
A bit later, the witness heard 'intense gunfire' coming from the direction of Kravica. It lasted for about an hour and 'it sounded as if only one side was firing'. At the same time Pepic heard the detonations: he assumed those were hand grenades. When the shooting stopped, commander Cuturic appeared at the bridge. He told Pepic that there had been an 'incident' in Kravica in which a detachment member was killed. All the detainees were executed.
That same evening, as he drove from Bratunac to Konjevic Polje the witness saw a pile of hay in front of the Kravica farm. The witness assumed that the hay had been thrown over the corpses, so that the bodies couldn't be seen from the buses passing by. Commander Cuturic told Pepic that evening that what happened in Kravica 'isn't a good thing'. 'Sooner or later someone will be held responsible for what was done', Cuturic said.
As he was questioned by prosecutor Milbert Shin, the witness said that he never learned who had fired at the detainees in Kravica. The witness nevertheless admitted that he had testified before a BH court at the trials of persons responsible for the Kravica massacre, which included people from Pepic's detachment. The written statement he gave in 2005 to the State Investigation and Protection Agency was admitted into evidence at Mladic's trial.
Mladic's defense counsel Miodrag Stojanovic claimed in the cross-examination that on 13 July 1995 the VRS troops were re-grouping in the Srebrenica area to go to the Zepa area. The defense counsel played an excerpt form a video compilation entitled Srebrenica – Court Video. In the excerpt, Ljubomir Borovcanin, speaking under his codename Bor ordered Oficir (i.e. Rade Cuturic) to 'stop the traffic behind him'.
Pepic confirmed the defense counsel's suggestion that in fact he had not seen any 'military formations' on 13 July 1995 in the area of Sandici and Kravica. However, a bit later, as he answered a question by Judge Flugge, the witness said he had seen only people wearing military uniforms in front of the warehouse.
Mladic's defense will complete the cross-examination tomorrow.