Home
MLADIC'S 'THREATENING' RHETORIC
Dutch lieutenant colonel Pieter Boering testified for the sixth time at the Tribunal. He described the three meetings in the Fontana Hotel in Bratunac in July 1995. Ratko Mladic used 'threatening' rhetoric both to the Dutch officers and the representatives of the civilian population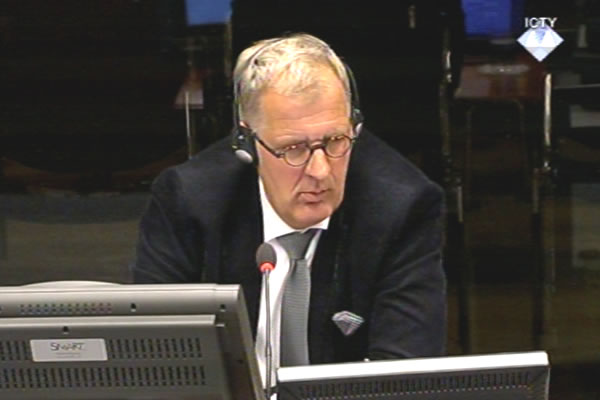 Pieter Boering, witness at the Ratko Mladic trial
The trial of the former VRS Main Staff commander continued with the evidence of Lieutenant Colonel Pieter Boering. From January to July 1995 Boering served as the liaison officer in the UN Dutch Battalion. He liaised with the VRS, the BH Army and the civilian authorities in the enclave. Boering was also in charge of monitoring the humanitarian situation.
Boering for the most part testified about the three meetings between Ton Karremans, the Dutch Battalion commander, and Ratko Mladic in the Fontana Hotel in Bratunac on 11 and 12 July 1995. Boering described Mladic's rhetoric as 'threatening'. In Boering's words, Mladic issued a 'clear threat' to the Dutch saying that they 'have only one life' and that 'he doesn't believe they want to lose it in Srebrenica'. Mladic told the Dutch that they 'can all stay, leave or die…' and that he 'doesn't want them to die'.
After the third meeting in Bratunac, Boering noticed in Potocari that some men had been separated and detained in the 'white house'; the women and children were put on the buses and taken to the territory under the control of the BH Army. Boering and another Dutch officer escorted the first convoy. When the convoy stopped near Vlasenica, several men and boys were taken off of the bus and taken to a nearby wood. Boering doesn't know what happened to them.
Mladic's defense counsel Miodrag Stojanovic put it to the witness at the beginning of the cross-examination that the Dutch Battalion soldiers didn't fulfill their mandate. The agreement called for the demilitarization of the enclave but 'some of the inhabitants in Srebrenica carried automatic weapons'. The defense counsel claimed that a group of Muslim fighters led by Zulfo Tursunovic disarmed the 'blue helmets' in February 1995 in an area known as the 'Bandera Triangle'. The Muslim group took the blue helmets hostage. Boering confirmed it, adding that in early July 1995 there were 'many men carrying arms'; this had been 'a rare sight' before that time.The witness also confirmed that the arms were 'smuggled' between Zepa and Srebrenica but denied the defense's claims about a corridor that was 'in operation throughout the period in contravention of the demilitarization agreement'.
The defense used the footage from the Fontana Hotel in a bid to prove that the VRS treated the Dutch hostages properly. 'Nobody was tied up, they all sat down at the table free', the defense counsel said. He asked the witness to look at the footage showing Colonel Karremans 'thanking the Serb authorities for treating his soldiers well'.
In the same recording, Karremans asks Mladic for permission to evacuate the civilians to Tuzla, as he thinks they would have 'better living conditions' there. The defense alleges that at the time of the meeting the men from the enclave had already decided to break through towards Tuzla.
Lieutenant Colonel Boering will continue his testimony tomorrow morning.