Home
SHIFTING THE RESPONSIBILITY ON THE DUTCH
Ratko Mladic's defense tried to shift the responsibility for the evacuation of civilians from Potocari in July 1995 on the Dutch 'blue helmets'. The defense counsel invoked the statement made by Lieutenant Colonel Pieter Boering in 1995 in which he said that 'the Dutch Battalion soldiers helped divide up the people and sent men to the white house'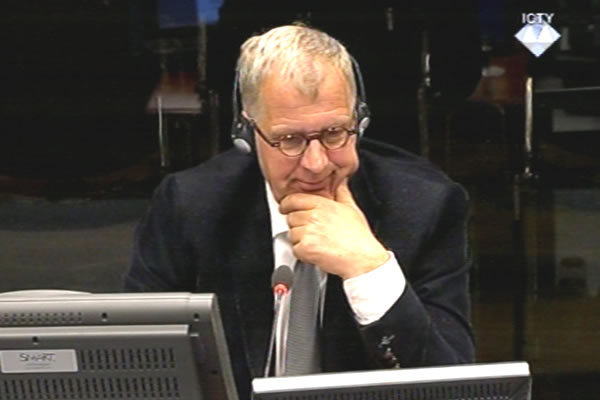 Pieter Boering, witness at the Ratko Mladic trial
In the cross-examination of Lieutenant Colonel Pieter Boering, Ratko Mladic's defense counsel suggested that the Dutch Battalion soldiers had actively participated in putting the civilians onto buses in Potocari. Boering was the liaison officer in the Dutch Battalion and he attended the meetings between his commander Karremans and Mladic in the Fontana Hotel in Bratunac on 11 and 12 July 1995.
Invoking the witness's statement to the Dutch authorities given on his return from Srebrenica, the defense counsel put it to Boering that he had 'deployed military observers' in Potocari, that 'people with straps let the people through', and that the 'blue helmets' helped 'divide up the people, sending men to the white house'. Lieutenant Colonel Boering said that the UN military observers were stationed near a building in order to be able to see where the men who had been removed from the rest of the refugees were taken. Boering said that he ordered the observers to 'monitor' how many Bosnian Muslims were taken away. The witness confirmed that he saw 'a strap' but didn't remember who 'tried' to control the people, whether those were the military observers or the Dutch soldiers. The witness also claimed he 'didn't see' UNPROFOR soldiers send men to the 'white house'.
Mladic's defense counsel put it to the witness that the military rules allow the triage of prisoners of war to establish if there are any war crime suspects among them. Boering confirmed that there was nothing 'contentious there from a military point of view'. He did add that the people in the white house weren't prisoners of war but refugees. The defense counsel argued that soldiers could have 'thrown away their weapons' and joined the civilians in order to be able to leave the war zone. In Boering's view, this was 'possible' but 'it didn't seem like that' to him.