Home
SREBRENICA INVESTIGATION, MADLEINE ALBRIGHT AND MLADIC'S DIARIES
Former head of the OTP Srebrenica investigation team Jean Rene Ruez continued his evidence at Ratko Mladic's trial. Ruez described how his investigation team identified the locations where Bosniaks were captured, detained, executed and buried after the fall of Srebrenica. The bodies were later transferred to new mass graves to cover up the crime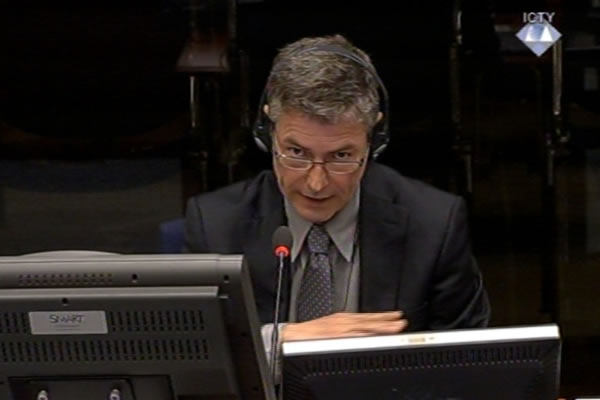 Jean-Rene Ruez, witness at the Ratko Mladic trial
The locations investigated in the Srebrenica area were shown on photos, maps and aerial shots from the collection Jean Rene Ruez put together for the trial of the former VRS Main Staff commander; Mladic is charged with the Srebrenica crimes. Ruez, a French police inspector, used to work for the OTP as an investigator. Continuing his evidence, Ruez described how the investigation identified the schools in the villages of Orahovac, Petkovci, Pilica and Rocevic near Zvornik where the Bosniaks captured after Mladic's troops overran Srebrenica were detained.
Following the trail set by the witness' statements, the investigators found the evidence that helped them link the locations where Muslims were detained with the sites where they were executed – the field near Orahovac, the dam in Petkovci, Kozluk near Rocevic, the Branjevo military farm and the cultural center in Pilica.
Speaking about the findings at Branjevo, Ruez explained that he used the opportunity to visit the farm in March 1996 when the US State Secretary Madeleine Albright went there. When the presiding judge remarked that the visit of a US stateswoman was not relevant for the judges, prosecutor McCloskey explained that the visit was linked to an entry in Mladic's diary for 22 March 1996. Mladic wrote that 'President Karadzic' told him that a 'major show was put up for Albright' the day before. Albright expected to 'find about 1,200 Muslim bodies in Pilica and they saw only about five', Mladic noted.
Ruez explained that the investigators didn't find any bodies: all they found were some 'body parts'. According to Ruez, the figure Mladic mentions in his diary, 1,200 bodies, probably came from Drazen Erdemovic. Erdemovic confessed to taking part in the executions at Branjevo. He said that about 1,200 prisoners were killed there. Mladic's entry about a man called Fica who told Karadzic that 'those two guys would sell the story about Srebrenica to The Hague…' is probably also a reference to Erdemovic and another member of the 10th Sabotage Detachment.
The final set of the prosecutor's questions for Ruez dealt with the mass graves in Glogova, Lazete, Cancari. Ruez explained to the Trial Chamber that the investigators identified the sites where execution victims were buried. Ruez also described how they identified the places where the victims' remains were moved to cover up the crime.
Mladic's defense counsel Branko Lukic began cross-examining Jean Rene Ruez today and will continue at a later stage.