Home
'WOLVES' AND 'SCORPIONS' AT RATKO MLADIC'S TRIAL
Parts of a video compilation, Srebrenica – court video were played at the trial of Ratko Mladic during the examination-in-chief of the OTP investigator Erin Gallagher. The clips showed Mladic's triumphant arrival in Srebrenica, as well as his statement about the 'revenge on Turks'. There was also a clip showing the 'Drina Wolves' unit howling as they attacked, and the video of the Scorpions unit executing six Srebrenica youths and boys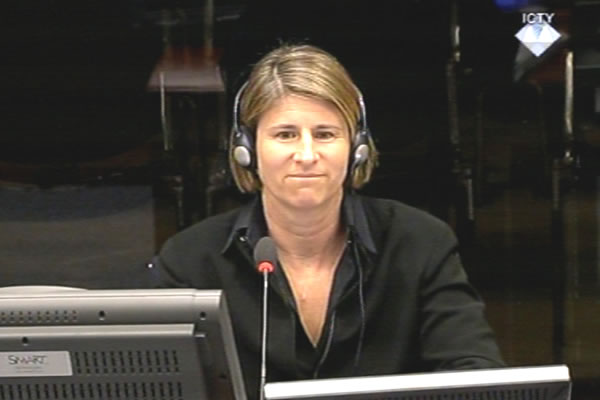 Erin Gallagher, witness at the Ratko Mladic trial
After Pieter Boering completed his evidence, OTP investigator Erin Gallagher returned to the witness stand. A video compilation, Srebrenica – court video, was admitted into evidence through her testimony. The prosecutor also tendered into evidence an album with screen shots from the video recordings made from 10 to 21 July 1995.
Gallagher had already testified about the collection of maps the prosecution had prepared for the Srebrenica stage of its case at the trial of Ratko Mladic. Mladic is charged with the genocide in Srebrenica in the summer of 1995. In the video clips played in court today, Gallagher identified the source and the date of the recordings; she also identified the locations, persons and items.
In the clip showing the Serb forces advancing on Srebrenica on 11 July 1995 the witness was able to identify the commander of the Zvornik Brigade, Vinko Pandurevic, and the commander of the 'Drina Wolves', Milan Jolovic Legenda. At one point, Jolovic ordered his soldiers over the radio, 'hit them hard, I want to hear wolves howl'. The soldiers yelling as they attacked are heard in the video.
Some other excerpts from the Srebrenica video collection were also shown, including the footage of the departure of Muslim civilians from Srebrenica, the rounding up of the men in Susnjari on 11 July 1995, and Mladic's arrival in the town in the company of Milenko Zivanovic and Radislav Krstic. In the statement he gave that day in the empty town Mladic said, 'I give this town to the Serb nation as a gift' adding that 'the time has finally come for us to take revenge on the Turks in this area'.
The recording of Milenko Zivanovic's speech on 12 July 1995 was also played in court. Zivanovic spoke at the feast of Vlasenica's patron saint. The Orthodox bishop Vasilije Kacavenda also attended the feast. Zivanovic said that the preparations for the capture of Srebrenica had been in full swing in early June 1995 and that the enclave fell with minimal losses on the Serb side. Three soldiers were killed, but only one of them in action, Zivanovic said.
At the end the prosecutor played the video showing the execution of six captured Muslims in Trnovo by the Scorpions unit. Erin Gallagher identified the victims as Safet Fejzic, Sidik Salkic, Azmir Alispahic, Smail Ibrahimovic, Dino Salihovic and Juso Delic. Their names were on the list of persons from Srebrenica who went missing in July 1995.
The trial continues on Tuesday, 23 April 2013 when Mladic's defense counsel Dragan Ivetic will cross-examine the witness.