Home
FINAL JUDGMENT FOR PERISIC ON 28 FEBRUARY 2013
The Appeals Chamber will render its final judgment in the case against former chief of the VJ General Staff Momcilo Perisic on 28 February 2013. The prosecution didn't file an appeal, while Perisic sought the reversal of the trial judgment. The Trial Chamber found Perisic guilty of aiding and abetting crimes in Sarajevo and Srebrenica and failing to punish those who committed crimes in Zagreb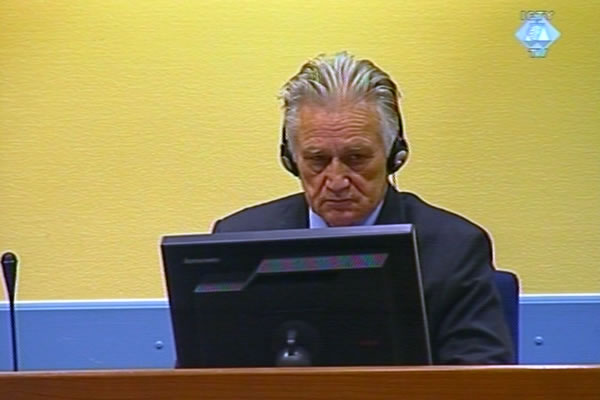 Momčilo Perisic in the courtroom
The final judgment in the case against Momcilo Perisic, former chief of the VJ General Staff, is scheduled to be delivered on 28 February 2013 at 3pm. In September 2011, Perisic was found guilty of aiding and abetting the crimes in Sarajevo and Srebrenica and for failing to punish those who ordered the rocket attacks on Zagreb. Perisic was sentenced to 27 years in prison. The trial judgment was reached by a majority of votes. Judges David and Picard prevailed, and Judge Moloto attached a dissenting opinion stating that Perisic should be acquitted on all counts in the indictment.
The prosecution was obviously satisfied with the trial judgment and didn't appeal it. At the appellate hearing in October 2012, the defense further clarified the 17 grounds of appeal. The defense sought the reversal of the judgment and Perisic's acquittal on charges alleged in the indictment. Alternatively, the defense called for a new, 'more reasonable' sentence.
Defense counsels Novak Lukic, Gregor Guy Smith and Stephane Bourgogne claim that the majority of the Trial Chamber 'criminalized war as such'. 'If Perisic's judgment is allowed to stand' then 'every military commander…assisting a foreign country…in an international armed conflict' is guilty of the crime of aiding and abetting.
The appeal judgment will be delivered by the Appeals Chamber comprising the presiding judge, Theodor Meron, from the USA, and judges Agius, Liu, Ramarson and Vaz.