Home
CAUSE OF DEATH OF VICTIMS IN EASTERN SLAVONIA
With the accused Goran Hadzic absent from the courtroom, Croatian pathologist Davor Strinovic testified about the post mortems and identification of victims of the crimes listed in the indictment against the former Krajina Serb leader. Most of the victims died of gunshot wounds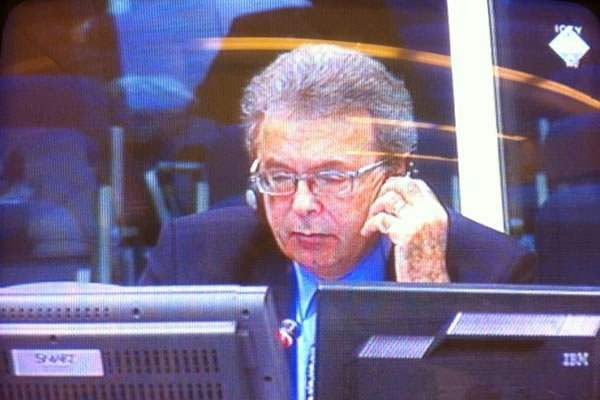 Davor Strinović, witness at the Goran Hadzic trial
After a three-week break, the trial of former Krajina Serb political leader Goran Hadzic continued with the evidence of Davor Strinovic, a forensic medicine expert from Zagreb. As a member of the Commission for Detained and Missing Persons of the Croatian government, Strinovic was involved in the post mortems and identification of bodies from the Ovcara farm near Vukovar, from Dalj, Erdut, Lovas and other sites. Hadzic is charged with crimes against victims buried there.
The prosecution showed results of the post mortems of some of about a hundred victims killed by firearms in the Dalj area in September and October 1991, in a mine field in Lovas on 18 October 1991, in Erdut on 21 February 1992 and in Grabovac on 4 May 1992.
Strinovic said that the first post mortems of the victims were conducted in Novi Sad in Serbia in 1991 because the bodies of civilians with gunshot wounds had washed up on the Danube river banks near Novi Sad. The bodies were buried in unmarked graves as unidentified persons in cemeteries in Serbia. When the conflict ended, the remains were exhumed and transferred to Croatia. New post mortems were conducted under Strinovic's supervision, and the victims were identified.
A list containing the data about the victims of executions at the Ovcara farm on 20 November 1991 was admitted into evidence separately. Strinovic said that from very beginning he had participated in the effort to recover and exhume the bodies; he also took part in the post mortems and identification of victims that followed. As he said, about 200 bodies were found in the mass grave. The last, 192nd victim was identified just two weeks ago.
As Strinovic said, the US forensic anthropologist Clyde Snow found a mass grave in 1992 after bullet casings and human bone fragments were found on surface. The exhumations did not begin until 1996 because of the local Serb authorities and the JNA hindered them. As a result, the tissue got progressively more degraded and the identification of victims was more difficult, Strinovic explained.
According to the data of the Commission for Detained and Missing Persons, 986 persons, mostly Croats, are still missing from the conflict that lasted between 1991 and 1992. There are also 743 persons, mostly ethnic Serbs, who were reported missing in 1995. According to Strinovic, almost 950 bodies of the victims of the conflict in Croatia have been recovered. As he said, his Commission estimates that more than 11,000 persons were killed in the Homeland War.
The accused wasn't in the courtroom on Monday. Before Strinovic began his evidence a brief statement was made to the effect that the accused had waived his right to be present, apparently because he wanted to celebrate the Orthodox Christmas.