Home
SUFFERING CONSEQUENCES OF DETENTION IN SERBIA
Zeljko Sandor, former member of the Croatian National Guard, was arrested in November 1991 and taken to the prison in Sremska Mitrovica, Serbia. He spent several months in detention and was seriously physically and mentally injured. The injuries still make normal life difficult for the witness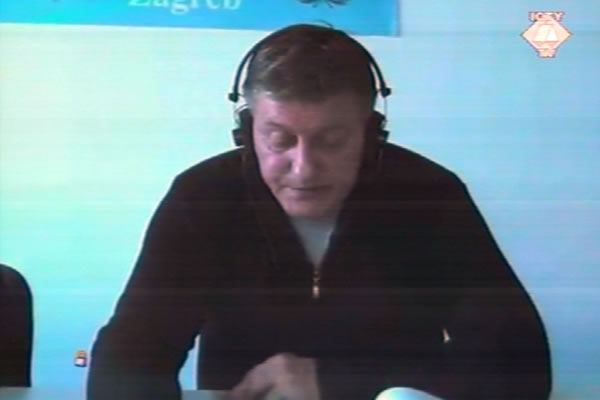 Zeljko Sandor, witness at the Goran Hadzic trial
After the evidence of two witnesses who were heard in closed session, the trial of Goran Hadzic, former prime minister of the Serb Autonomous Region of Eastern Slavonia, Baranja and Western Srem, continued with the testimony of Zeljko Sandor. The former member of the Croatian National Guard (ZNG) testified via video link from Zagreb. On 19 November 1991, the witness was captured in the Vukovar area. He and other prisoners were put on buses and taken to the prison in Sremska Mitrovica in Serbia via Bogojevo.
In his statement to the OTP, the witness said that JNA soldiers first 'kicked and punched' him in Bogojevo. Later, in Sremska Mitrovica, the witness had to run a gauntlet where he was beaten with 'bats, crutches, boots, rifles and broom handles'. The witness was placed in a room with about 130 other men. There, the detainees were 'crammed like sardines' so that they 'couldn't turn around'. For the first month, the prisoners were not allowed to use the bathroom.
Sandor said they had to stand up with their heads down and hands behind their backs whenever the guards spoke to them. Prisoners spent hours doing pointless tasks such as cleaning a single step with their bare hands. Sandor noted that the JNA deserters were the worst-off. They were put into solitary confinement and were mentally and physically abused on a daily basis.
In the prison, some prisoners had their genitals cut by the guards. Sandor was forced to 'eat pepper and salt'; this seriously damaged his oral cavity. The witness said that in the prison in Sremska Mitrovica he sustained serious injuries to lungs, ribs and spine, and his hearing and vision were impaired. Because of several concussions, the witness has frequent headaches. Sandor was exchanged on 14 August 1992. Today, he still has insomnia and depression and finds it difficult to communicate with people on a day-to-day basis.
Hadzic's defense counsel Christopher Gosnell spent most of his time in the cross-examination on Sandor's activities in the ZNG. The witness volunteered to join the Guard in June 1991: with the permission of Tomislav Mercep, Sandor was issued weapons and a uniform in the Crisis Staff in Vukovar.
The defense counsel also put it to the witness that the Croatian forces would try to disable JNA tanks by firing hand-held rocket launchers from both sides of the road at the first and the last vehicle in the combat formation to block other vehicles in a convoy. Trpinjska Road, one of the access routes to Vukovar was thus named the 'tank graveyard'. Sandor replied that the actions were directed against the JNA, which was moving in with 10 APCs; according to him, this was 'an open indication of the intention to launch an attack'.