Home
CLOSE TIES BETWEEN HADZIC AND ARKAN
The prosecution expert insists that a number of documents from the Yugoslav security services show close ties between Hadzic and Arkan. The documents warn that their frequent public appearances together were 'politically harmful to Hadzic and the RSK'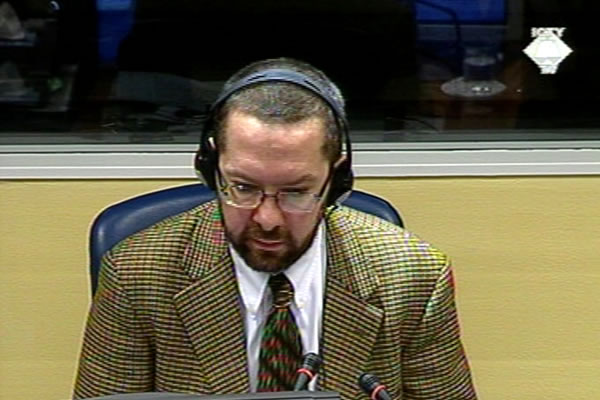 Christian Nielsen, witness at the Goran Hadzic trial
In the final part of his examination of prosecution expert Christian Nielsen, the prosecutor insisted on the ties between the accused Goran Hadzic, former political leader of Serbs in Croatia, and Zeljko Raznatovic Arkan.
As Nielsen explained, a number of documents from the Yugoslav Army and police 'speculate' about Arkan's stay in Slavonia, Baranja and Western Srem in 1991 and early 1992: specifically, whose support he enjoyed. The 'general assumption' was that the Serbian State Security Service (part of the Interior Ministry) and the Serbian Defense Ministry supported Arkan, Nielsen noted. Based on the documents, the witness concluded that Arkan worked for the Serbian State Security Service. In the light of that conclusion, the witness didn't know how to interpret a document in which Hadzic appoints Arkan the commander of the training center in Erdut.The witness nevertheless included the order on Arkan's appointment in his report because of many documents that speak of close ties between Arkan and Hadzic. Many military and police bodies reported that Arkan and Hadzic frequently appeared in public together. A State Security Service document from October 1992 states that their closeness was 'politically harmful to Hadzic and the Republic of Serbian Krajina'.
As Nielsen noted, in April 1992, Zivota Panic, Chief of the VJ General Staff, said at a meeting of the Federal Presidency that Hadzic 'drags Arkan around as his bodyguard'. In his report, Nielsen also referred to a newspaper article in which Arkan was mentioned as Hadzic's 'special advisor' who was entitled to attend government meetings; this didn't always go down well with all RSK leaders. Nielsen concluded that the documents taken in their entirety clearly show that Arkan 'was untouchable and enjoyed support of the authorities'.
Hadzic's defense counsel Christopher Gosnell contested the allegations that Arkan and the accused Hadzic were close. Gosnell put it to the witness that the 'easiest' way to discredit someone was to link him with Arkan. The witness 'couldn't rule it out', but he did insist that ties between Hadzic and Raznatovic were discussed even at the Federal Presidency level. According to Nielsen, many Serb leaders had a positive view of Arkan and linking someone with Arkan didn't necessarily imply that it was done to discredit that person. The witness didn't dismiss the defense counsel's suggestion that some persons renounced Arkan 'on paper' by expressing their disagreement. However, as Nielsen argued, this was not the main motive why the professionals in the police force spoke in negative terms about Hadzic's close ties with Arkan.
Hadzic's defense counsel tried to contest the credibility of the witness by noting his expert report was based on studying the police in Republika Srpska, not in Croatia. The Trial Chamber will rule on whether to admit Christian Nielsen's report into evidence and in what manner after Nielsen completes his evidence. Because of the witness's obligations his testimony was interrupted and postponed until further notice.