Home
KARADZIC ACQUITTED OF GENOCIDE IN MUNICIPALITIES
At the half-time of the trial, Radovan Karadzic was acquitted of genocide in seven BH municipalities: Bratunac, Foca, Kljuc, Prijedor, Sanski Most, Vlasenica and Zvornik. The judges found that the prosecution had called enough evidence that may support a conviction on the remaining ten counts in the indictment, including the genocide in Srebrenica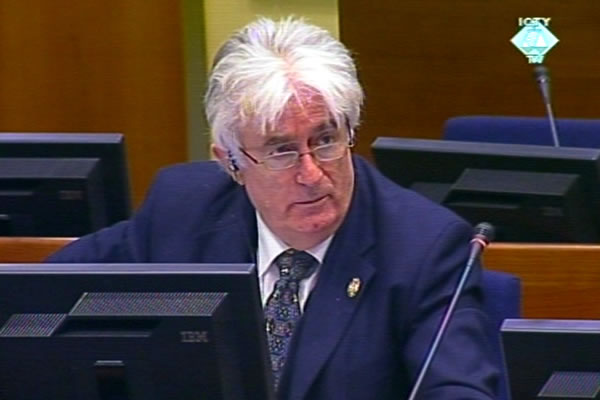 Radovan Karadzic in the courtroom
The Trial Chamber with the Korean judge O-Gon Kwon presiding partially granted Radovan Karadzic's Rule 98 bis motion and acquitted him of Count 1 in the indictment. The count charged the former Republika Srpska president with genocide in seven municipalities in Bosnia and Herzegovina – Bratunac, Foca, Kljuc, Prijedor, Sanski Most, Vlasenica and Zvornik.
Analyzing the evidence the prosecution has presented, the Trial Chamber found that murder, inflicting grave physical and mental injuries, forcible transfer of population and imposing inhumane conditions in prison facilities in those municipalities in their 'nature, scale and context...do not reach the level' that could lead a reasonable trier of facts to conclude beyond reasonable doubt that they were committed with an intent to annihilate the Bosnian Muslims entirely or in part as an ethnic or religious group.
As regards the crimes alleged in the remaining ten counts in the indictment against Karadzic, the prosecution has presented enough evidence which would be able to support a conviction, the Trial Chamber ruled. These crimes are qualified as four joint criminal enterprises: ethnic cleansing and persecution of non-Serbs in large parts of Bosnia and Herzegovina, a campaign of artillery and sniper terror in Sarajevo, taking UN staff hostage and, finally, the genocide in Srebrenica in July 1995.
Based on the evidence presented by the prosecution, a reasonable trier of facts may conclude that the crimes alleged in the indictment were committed as part of the four joint criminal enterprises, the judges stated, and that the Republika Srpska president and the supreme commander of its armed forces personally took part in the enterprises. Karadzic shared the purpose of the criminal enterprises with the other members: to eliminate the Bosnian Muslims and/or Croats permanently from those territories through persecution, extermination, murder, deportation and other inhumane acts, including the genocide in Srebrenica.
As the judges found, the evidence shows that in the case of Srebrenica, Karadzic shared the intent of the other participants in the joint criminal enterprise, including the specific intent to commit genocide and discriminate against the Srebrenica Muslims on racial, religious or political grounds.
Radovan Karadzic will be back in court on 3 September 2012 at a status conference. The defense case is set to begin on 16 October 2012.