Home
KARADZIC WILL NOT TOUR THE REGION
Radovan Karadzic's motion in which he asked the judges to arrange one-week visits to Sarajevo, Banja Luka and Belgrade during the defense case was denied today. Karadzic intended to call as his witnesses persons who are serving sentences in prisons in the region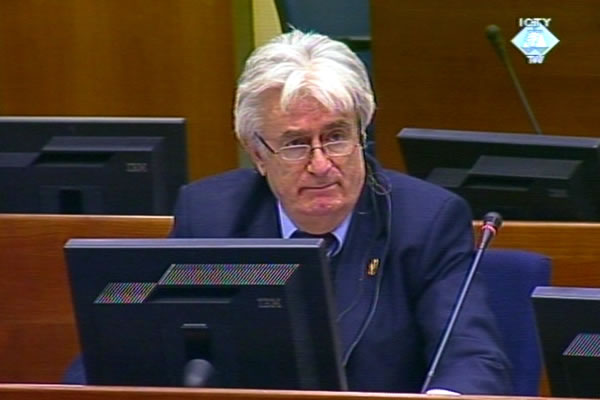 Radovan Karadzic in the courtroom
Judge O-Gon Kwon's Trial Chamber today denied the motion filed by the former Republika Srpska president Radovan Karadzic, in which he proposed that the trial be moved for one week to Sarajevo, Banja Luka and Belgrade during the defense case. Karadzic wanted to do this because he needs to examine witnesses who either live in the region or are serving their sentences in local prisons.
In his motion, Karadzic argued that holding trial in the three cities would be 'in the interest of justice' as it would contribute to a better understanding of the Tribunal's work among the people in the former Yugoslavia. It would avoid 'complications' related to the transportation of witnesses to The Hague and putting those who are currently serving prison sentences in the detention unit.
The prosecution opposed the motion. The presence of the accused in the region would represent a major security problem both for him and the others involved, the prosecution insisted.
The decision that was disclosed today states that the accused failed to identify a single witness who wouldn't be able to travel to The Hague and didn't state any problems pertaining to the transportation of prisoners who would be called to testify. According to the judges, the fact that the accused finds it more 'convenient' wasn't sufficient to lead them to decide to organize hearings in the region.
The Trial Chamber notes that the accused has various mechanisms at his disposal to deal with any problems with the transfer of witnesses. The judges reminded Karadzic to speak to the Tribunal's Victims and Witnesses Unit about any issues that he may feel were relevant. The unit is in charge of arranging transportation and accommodation for witnesses. The judges agreed with Karadzic's remark that it was important to improve the understanding of the Tribunal's work in the public of the region, noting that the Tribunal's outreach program was in charge of this effort.
In light of those findings, the Trial Chamber concluded it was entirely 'unnecessary' to invite the authorities in Sarajevo, Banja Luka and Belgrade to state their positions on this matter and denied Karadzic's request.
Karadzic's defense case is set to begin on 16 October 2012.