Home
KARADZIC WANTS TO APPEAL AGAINST RULE 98 BIS JUDGMENT
Radovan Karadzic has sought leave to appeal against the Rule 98 bis judgment which denied his request for acquittal on the charge of taking UN staff hostage in May and June 1995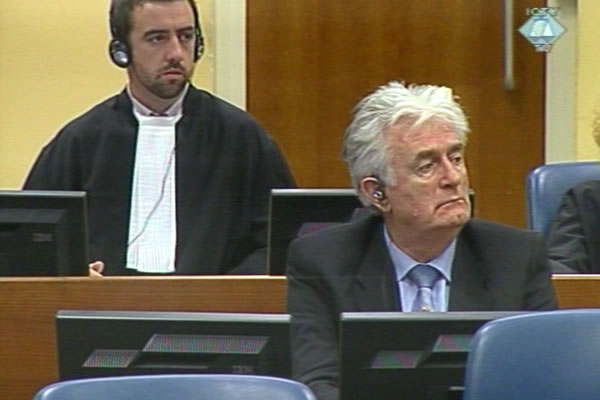 Radovan Karadzic in the courtroom
Two days after the prosecution indicated it would appeal against Karadzic's acquittal on Count 1 in the indictment, which charged him with genocide in seven BH municipalities in 1992, the former Republika Srpska president has sought leave to file an appeal against the same judgment. The judges denied Karadzic's request to acquit him on Count 11 in the indictment, related to taking UN staff hostage in May and June 1995.
The prosecution claims Karadzic "committed in concert with others, planned, instigated, ordered, and/or aided and abetted" the taking of 200 UN military observers and other staff as hostages as part of a joint criminal enterprise in an effort to force NATO to halt air strikes against Bosnian Serb military targets on 25 and 26 May 1995.
Karadzic claimed that the United Nations were at the time a 'warring party' and that the 'blue helmets' actively participated in the fighting on NATO's side and as such weren't protected by the Geneva conventions. This is why Karadzic asked the judges to acquit him at the half-time of the trial on that count in the indictment, but the Trial Chamber denied the motion.
The judges invoked a prior decision of the Appeals Chamber stating that the Geneva conventions prohibit taking non-combatants or persons 'hors de combat' hostage. Even if they had taken part in the fighting, the UN staff was entitled to the minimum rights guaranteed by the Geneva conventions as soon as they were captured and shouldn't have been used as hostages.
Karadzic contends that the Trial Chamber erred when it concluded that UN members were entitled to protection under the Geneva conventions when they were captured. In Karadzic's view, it "makes no sense that a perpetrator is privileged to shoot and kill combatant, but commits a crime when he threatens him with death or detention".
In his motion seeking leave to appeal, Karadzic argues that the appeal would not affect the fairness, expeditiousness and outcome of the trial. Also, the appeal wouldn't delay the proceedings as Karadzic intends to start his case by contesting the allegations about the terror campaign in Sarajevo. The defense will not call the first witnesses who will testify about the incidents in which UN staff was taken hostage before 2013 and the Appeals Chamber should rule on any appeals by that time.
Karadzic noted in the motion that if the Trial Chamber granted the prosecution leave to appeal his acquittal on Count 1 in the indictment, it would 'be only fair' that he be allowed to file an appeal against the judgment on Count 11.