Home
JUDGES' "INSPECTION" OF SREBRENICA CRIME SCENES
The judges of the Trial Chamber hearing the case against Radovan Karadzic began a site visit in the Srebrenica area. The former president of Republika Srpska is on trial for crimes committed there in July 1995. Karadzic has asked to be allowed to accompany the delegation, SENSE has learned, but the judges have rejected his motion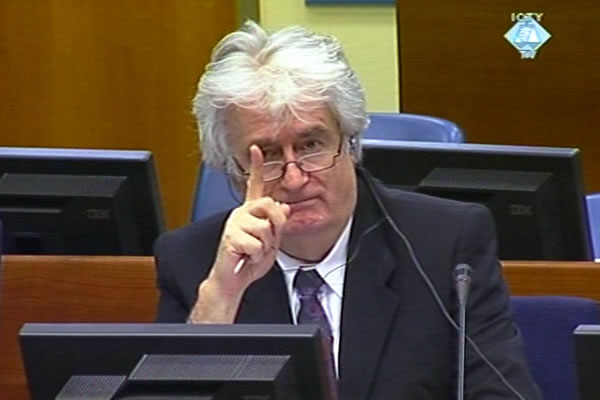 Radovan Karadzic in the courtroom
The Trial Chamber hearing the case against the former Republika Srpska president Radovan Karadzic began a five-day visit to the Srebrenica area, it was announced at the Tribunal. The judges will visit sites where, as alleged in the indictment, more than 7,000 Bosniak men and boys were captured, temporarily detained, and then executed and buried in mass graves in July 1995.
The delegation visiting the Srebrenica crime scenes comprises the judges of the Trial Chamber III, Kwon, Morrison, Baird and Latanzzi, and members of the prosecution and defense teams. The indictment qualifies the crimes committed there as genocide. Karadzic has asked to be allowed to accompany the delegation, SENSE has learned, but the judges have rejected his motion. In early 2011, Karadzic asked to join a visit to 65 locations in Sarajevo and its environs, but the Trial Chamber decided that it was 'neither necessary nor appropriate' for Karadzic to participate in the site visit to Sarajevo.
Karadzic is charged with participation in four joint criminal enterprises, one of which is the genocide in Srebrenica in July 1995, when the Serb forces executed more than 7,000 Bosniak men. About 25,000 women, children and elderly were deported in trucks and buses from the enclave.