Home
PROSECUTION'S 'TECHNICAL ERROR' IN MLADIC CASE
Due to a 'technical error' that occurred several years ago, the prosecution 'believed' it disclosed all the documents on the list to the defense, whereas in fact the documents were not on the hard disk. The prosecution notes that the accused has not received 3.19 percent of the total of 155,256 documents. The error will have 'a limited impact' on the ability of the defense to prepare for the commencement of the evidence presentation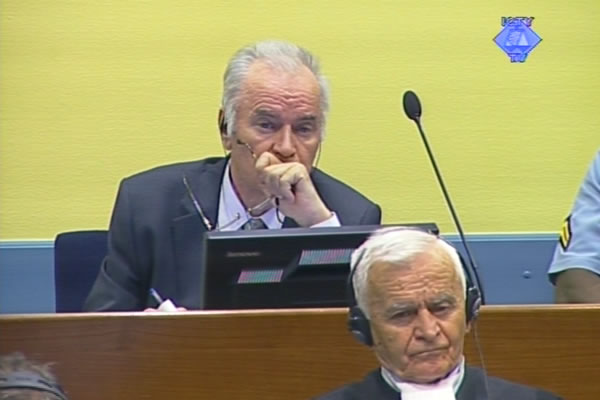 Ratko Mladic in the courtroom
The prosecution submitted a detailed explanation of the error in the disclosure of evidence to the defense of the former VRS Main Staff commander Ratko Mladic. The error has resulted in an indefinite suspension of the trial. The prosecution stressed it regretted the mistake, noting that it was in fact a technical error. According to the prosecution, the error has 'a limited impact on the ability of the defense to prepare for the commencement of the evidence presentation'. The error affects only 3.19 percent of the disclosed evidence or about 5,000 out of a total of 155,256 documents, photos and videos.
The prosecution explained that the mistake was made 'several years ago' when a database containing about 100,000 documents was set up. The inventory of the documents in the database didn't correspond with the actual contents of the database. The prosecution 'believed' that it disclosed to the accused the documents which in fact weren't on the hard disc delivered to the defense.
The prosecution became aware of the error on 11 May 2012 and immediately notified the Trial Chamber and the defense. Of 19 sets of documents disclosed to the defense, only two "batches", marked 4c and 5, are affected. The first batch comprises 3,089 documents: 'previous statements and transcripts of the testimony of potential prosecution witnesses'. Apart from a small portion of testimony given in closed session, the documents are available on the Tribunal's website. The statements and transcripts of witnesses scheduled to testify in the first segment of the trial, before the summer recess, were disclosed fully to the defense on 27 April 2012. The second batch contains 12,330 maps, photographs and other documents; one fourth has already been disclosed, while more than 2,250 documents are in fact English translations from BCS. Most of the other documents disclosed to the defense on 17 May 2012, pertain to the part of the prosecution case set to be presented after the summer recess.
Some of the documents disclosed late may affect the defense's preparations for the cross-examination of witnesses scheduled to testify in the first stage of the trial, the prosecution admits. As a remedy, the prosecution decided to examine 19 of planned 24 witnesses before the summer recess. Four witnesses will be heard after the break. David Harland, former head of civil affairs in the UN mission, will be the last witness to testify before the summer recess. Some 236 potential exhibits haven't yet been disclosed, but the deadline for their disclosure hasn't expired yet.
As the prosecution insisted, it is not opposed to 'reasonable adjournment' in order to ensure a fair trial, but any delays should be 'of limited duration'.