Home
KARADZIC WANTS TO INTERVIEW CLINTON
Radovan Karadzic has asked the Trial Chamber to issue a subpoena to the former US president Bill Clinton, compelling him to meet with his legal advisor. Karadzic wants Clinton to talk about the US involvement in the transfer of arms to BH and the alleged promises of military support. In Karadzic's view, for the Muslim side, these were 'motives to stage' the Markale massacre on 28 August 1995 and thus push NATO into launching air strikes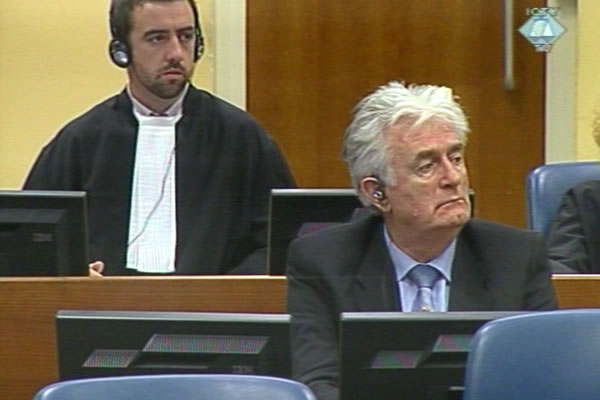 Radovan Karadzic in the courtroom
Former Republika Srpska president Radovan Karadzic has asked the Trial Chamber to issue a subpoena to the former US president Bill Clinton, compelling him to talk to his legal advisor Peter Robinsons. Karadzic filed the motion after all the defense's efforts to make the former president agree to an interview failed, Karadzic explains in his motion.
Clinton possesses 'relevant' information about the transfer of arms to BH via Croatia while the UN arms embargo was in force, Karadzic contends. Karadzic claims that the Croatian president Tudjman went to the US ambassador in Zagreb to seek America's permission to transfer arms from Iran and other countries through the Croatian territory. This permission was eventually given.
The American ambassador purportedly conveyed Tudjman's request to the State Department and Clinton decided that Tudjman should be told that the ambassador 'had no instructions'. This, in Karadzic's opinion, meant that America 'had no objections' to the proposed arms shipments. Karadzic said that Richard Holbrooke gave this message to Tudjman at a meeting in Zagreb on 29 April 1994.
Karadzic notes that a substantial quantity of the weapons arms brought into BH ended up in Srebrenica and Zepa. On 16 August 1995, the US delegation told the leaders in Sarajevo that the USA were ready to provide military support to the Muslim-Croat federation in the shape of 'arms, equipment and support'; this included NATO air strikes.
Clintons's promise that America would provide military support gave Muslims 'a motive to stage' the Markale massacre on 28 August 1995: they did it to push NATO into intervening. Karadzic maintains that Clinton's evidence would help him answer the accusations concerning the attacks on safe areas and taking UN staff hostage in May 1995.
Karadzic's motion and the proposal that his legal advisor meet with Clinton in Washington on 10 September 2012 came appended with the transcript of Holbrook's conversation with Tudjman on 16 August 1995. Holbrook told Tudjman that Clinton's administration was committed to a peace solution for BH, and finally presented the worst case scenario, if the efforts to achieve peace failed: the USA would be ready to lift the arms embargo and provide weapons, training and support to the federation forces 'until they achieve equality with the Bosnian Serb forces'. Holbrook also stressed that NATO would strike Serb positions only if the Serb side were to attack first in the nine months of the 'transition period'.
'I would like to make it clear that NATO cannot become the Federation's air force or provide close air support for offensive operations', Holbrook insisted, adding that this would never happen if the Serb side remained 'reasonable'.