Home
HEARING AT HALF-TIME OF KARADZIC TRIAL SLATED FOR JUNE
The Trial Chamber in the case against Radovan Karadzic has scheduled a Rule 98 bis hearing for 11 and 13 June 2012. At the hearing, the accused will ask the judges to acquit him on those counts that in his opinion have not been proven by the prosecution in the course of its case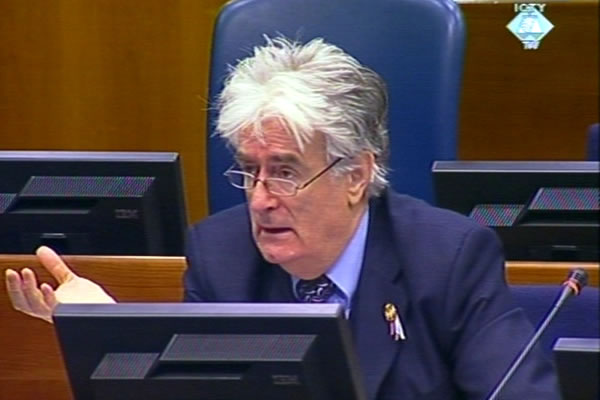 Radovan Karadzic in the courtroom
Judge Kwon's Trial Chamber which sits in the case against the former Republika Srpska president Radovan Karadzic has scheduled a Rule 98 bis hearing on 11 and 13 June 2012. In line with the Rules of Procedure and Evidence, the accused may ask the judges to acquit him at the half-time of the trial, after the prosecution has presented its evidence. The judges can acquit him on any count where in their opinion not enough evidence has been called to support a conviction.
Karadzic, who represents himself, will be the first to address the Trial Chamber at the hearing on 11 June 2012. Two days later, the prosecution will respond to Karadzic's arguments.
The prosecution opened its case at the trial of Radovan Karadzic on 13 April 2010. In the past two years, the court heard 196 witnesses. It took a bit more than 1,000 hours to examine the witnesses. The prosecution took 300 hours to examine its witnesses, while Karadzic spent almost 750 hours to cross-examine them. Written statements of 142 additional witnesses were admitted into evidence. The defense will open its case on 16 October 2012.