Home
KARADZIC EXPANDS HIS MOTION FOR TRIBUNAL'S TOUR TO THE REGION
In his latest motion, Radovan Karadzic has asked the Trial Chamber to call on the governments of Bosnia and Herzegovina, Republika Srpska and Serbia to furnish their positions on his 'initiative' to hold three one-week trial sessions during his defense case in Sarajevo, Banja Luka and Belgrade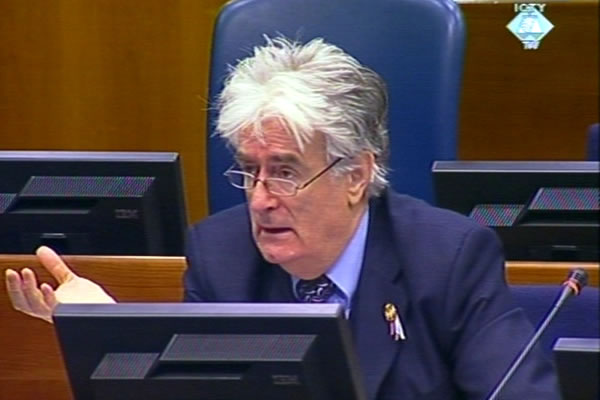 Radovan Karadzic in the courtroom
The accused Radovan Karadzic has asked the Trial Chamber to call on the governments of Bosnia and Herzegovina, Republika Srpska and Serbia to furnish their positions on his motion to hold three one-week trial sessions during his defense case in Sarajevo, Banja Luka and Belgrade. Karadzic contends that the governments of the states and entities 'should have an opportunity' to state whether his initiative to move the trial temporarily to the region is 'welcome' and whether they would be willing to make all necessary provisions.
Earlier this week, Karadzic asked for the trial to move to Sarajevo, Banja Luka and Belgrade for three weeks in the course of the defense case. This would allow Karadzic to call witnesses who live there and those serving sentences in local prisons. In Karadzic's view, that would be 'in the interest of justice' as it would contribute to a better understanding of the Tribunal's work among the people in the former Yugoslavia. At the same time, any complications related to the travel of his witnesses to The Hague and the accommodation of prisoners in the Tribunal's Detention Unit would be avoided, Karadzic argued.
The Tribunal's judges have sat outside of The Hague three times: twice in the State Court in Sarajevo, and then again, last month, when the judges visited an undisclosed 'distant location'. The Trial Chamber trying Rasim Delic travelled to Sarajevo in September 2007 and February 2008 to examine former Mujahideen who were not allowed to enter the Netherlands by the Dutch authorities. Last month, the judges examined an unwilling prosecution witness in the trial of former KLA commanders Haradinaj, Balaj and Brahimaj. All those 'visits' were made during the prosecution case.
Too bad Karadzic didn't come up with this idea earlier, before or during the prosecution case. This would have made it possible for the evidence on the genocide in Srebrenica to be called in Banja Luka, the evidence on the Sarajevo artillery and sniper terror campaign to be called in Belgrade, and the rest of the case to be presented in Sarajevo. The evidence would have included the Prijedor prison camps, the murders in Brcko and Visegrad and rapes in Foca. This without a doubt would have contributed to a better understanding – not only of the Tribunal's work but also of what had happened during the wars in the former Yugoslavia.