Home
KARADZIC'S MOTION TO 'REDUCE' INDICTMENT DENIED
The Trial Chamber hearing the case against Radovan Karadzic denied his motion in which he petitioned the judges to order the prosecution at the half-time of the trial to amend the indictment and drop from it the incidents which have not been sufficiently proven to secure a conviction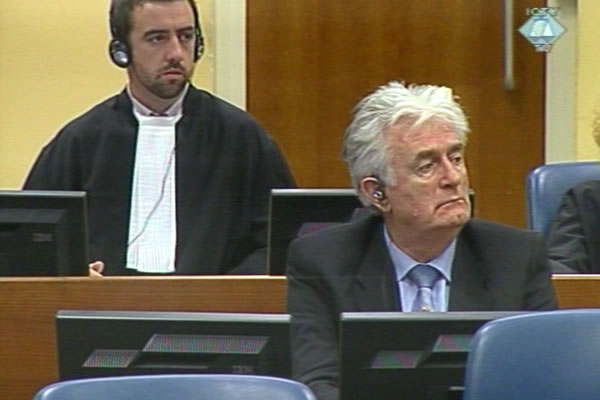 Radovan Karadzic in the courtroom
Judge Kwon's Trial Chamber denied Radovan Karadzic's motion in which he petitioned the judges to order the prosecution to amend the indictment after its case in line with Rule 54 of the Rules of Procedure and Evidence. In his motion, Karadzic wanted the prosecution to drop from the indictment the 'incidents' which, in his opinion, have not been proven and which could not result in a conviction.
Karadzic filed the motion in a bid to reduce the scope of his own investigation before the defense opens its case, scheduled for 16 October 2012. The prosecution in its response argued the motion was yet another attempt on Karadzic's part to reduce the scope of the indictment and in effect 'circumvent' Rule 98 bis of the Tribunal's Rules of Procedure and Evidence.
The Trial Chamber says in its decision that Rule 98 bis provides that after the prosecution has rested its case the accused may ask the judges to acquit him on the counts for which the prosecution has failed to call enough evidence to support a conviction. However, the rule does not require the Trial Chamber to consider the evidence on each particular incident covered in the counts in the indictment.
A 98 bis rule hearing has been slated for 11 and 13 June 2012. Karadzic will be the first to address the judges on 11 June 2012. Two days later, the prosecution will respond to Karadzic's arguments. The former Republika Srpska president is charged with 11 counts for genocide and other crimes in the war in BH.