Home
KARADZIC PROPOSES 'VISITS' TO SARAJEVO, BANJA LUKA AND BELGRADE
Radovan Karadzic wants the trial to move to Sarajevo, Banja Luka and Belgrade for a week during his case, as this would make it easier to call some witnesses who are serving their prison sentences there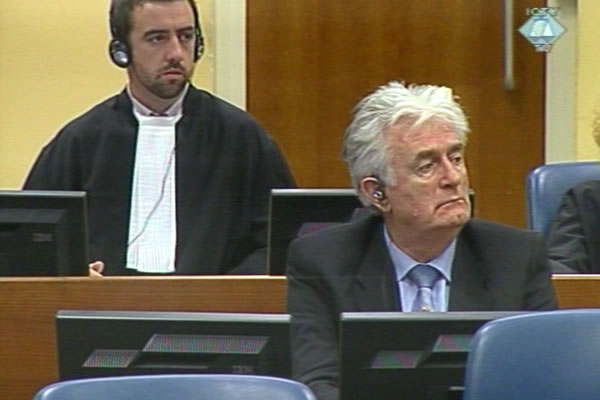 Radovan Karadzic in the courtroom
Former Republika Srpska president Radovan Karadzic wants the trial to move to Sarajevo, Banja Luka and Belgrade for a week during the defense case. This would allow Karadzic to call witnesses who live there and some who are serving sentences in local prisons.
In his motion, Karadzic says it would be in the 'interest of justice' for the trial to be held in these towns. First, the accused contends, this would make the people in the former Yugoslavia develop a better understanding of the Tribunal's work. Secondly, the witnesses wouldn't have to travel to The Hague to give evidence. As for the witnesses who are serving prison sentences, this would avoid any complications related to their transport to The Hague and accommodation in the Detention Unit.
Karadzic has invoked to Rule 4 of the Rules of Procedure and Evidence which allows the judges to exercise their function outside of the seat of the Tribunal if the Tribunal's President authorizes it 'in the interest of justice'. Karadzic has called on the Trial Chamber to ask President Theodor Meron to authorize these visits and to instruct the relevant bodies to carry out necessary logistic preparations.
The defense is set to open its case at Karadzic's trial on 16 October 2012. The prosecution rested its case last week. At the half-time of the trial there will be a Rule 98 bis hearing. Karadzic will ask the judges to acquit him on those counts in the indictment the prosecution, in his opinion, has failed to prove.