Home
MLADIC SEEKS TO DISQUALIFY JUDGE ORIE AND FOR A STAY OF PROCEEDINGS
Ratko Mladic's defense has asked the Tribunal's President to disqualify presiding judge Orie because of 'an appearance of bias'. The defense has listed no less than 17 reasons for the Dutch judge's disqualification: Orie's vested 'personal' and 'national interests' and alleged favoritism toward the prosecution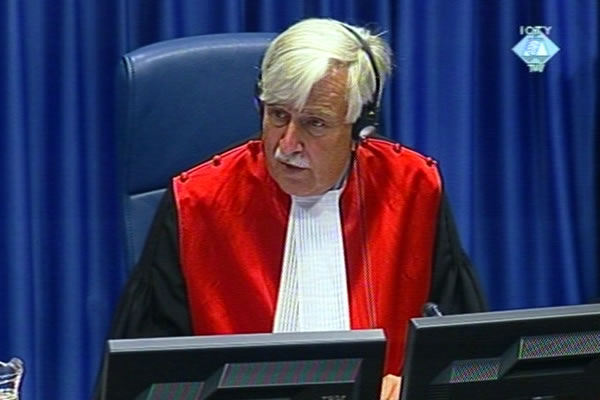 Alphons Orie, sudija Tribunala
Five days before the beginning of the trial, scheduled to start on 16 May 2012, Ratko Mladic's defense has filed a motion to disqualify presiding judge Alfons Orie on grounds of his possible bias. The defense also called the proceedings to be suspended and the trial itself postponed pending the decision on the motion.
In about 40 pages, the defense of the former commander of the VRS Main Staff presents the arguments in support of its demand to disqualify Judge Orie. The defense details all 17 reasons that, in its view, would each merit Judge Orie's disqualification.
First and foremost, Judge Orie showed his bias at the initial appearance of the accused. When Mladic refused to have the indictment read to him, Judge Orie ignored Mladic's wishes, the defense argues. Judge Orie also addressed the accused as 'Mr. Tadic'. This, the defense notes, was the name of an accused Judge Orie defended until April 1997. Because of his previous involvement in the case against Dusko Tadic, Judge Orie is in conflict of interest, defense counsel Lukic contends.
The defense notes that Judge Orie has a vested personal interest in preserving the
findings of the judgments handed down to Stanislav Galic and Momcilo Krajisnik, as he was the presiding judge at those trials. He would also want the conclusions in the sentencing judgments of 'penitents' Ranko Cesic, Milan Babic and Darko Mrdja to stand. As the defense argues, Judge Orie has sided with the prosecution in the preparatory stages of the trial, tolerating delayed disclosure of the evidence and the prosecution's refusals to deliver the documents in the language of the accused.
According to the defense, not only does Judge Orie have a vested 'personal' interest in the Ratko Mladic case, but also 'national interests'. The crimes Mladic is charged with include the events in Srebrenica. A Dutch court has established the responsibility of the Dutch State for the Srebrenica crimes, the defense says in its motion. Finally, the defense has brought up some orders issued by Judge Orie in his 'informal' communication with the parties. The defense has also recalled the prosecution's comment that it is happy with the way the presiding judge has been running the trial of Stanisic and Simatovic.
The defense contends that the disqualification of judge Orie is the only way to protect the "integrity of the trial and the rights of the accused", urging the Tribunal's President to issue an order to disqualify the Dutch judge and appoint another judge to preside over the Trial Chamber. In the meantime, the defense argues, the proceedings should be adjourned and the trial itself postponed. Alternatively the defense wants the President to appoint a bureau of judges to rule on the disqualification motion.