Home
CLOSING ARGUMENTS SLATED FOR LATE JUNE AT KLA COMMANDERS TRIAL
According to the decision of the Trial Chamber in the re-trial of the former Kosovo Liberation Army commanders, the parties will present their closing arguments on 25 and 26 June 2012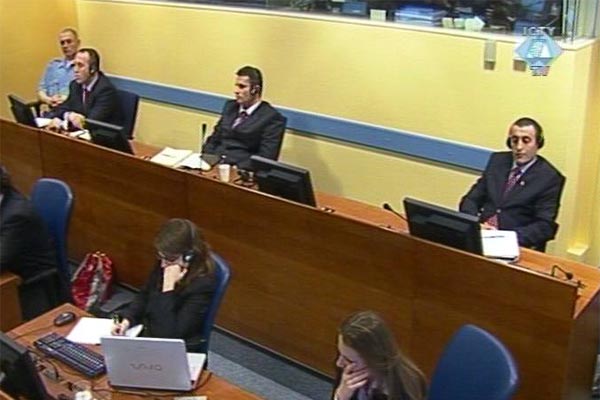 Ramush Haradinaj, Idriz Baljaj and Lahi Brahimaj in the courtroom
At a status conference at the trial against former Kosovo Liberation Army (KLA) commanders Ramush Haradinaj, Idriz Balaj and Lahi Brahimaj, the judges decided that the parties should present their closing arguments on 25 and 26 June 2012. The Trial Chamber thus approved the schedule proposed by the defense lawyers of the three accused in their briefs of 27 April 2012. The defense teams had indicated they wouldn't call any evidence. The judges also agreed that the parties should submit their final briefs by 11 June 2012.
Idriz Balaj's defense indicated it might present a limited and brief case if the prosecution did not accept the medical documents the defense had submitted. If necessary, the defense will go on with its case on 15 May; the judges will hear from the defense whether the evidence will be called or not by the end of this week.
Haradinaj's defense counsel Ben Emmerson asked the Trial Chamber to reach an oral decision on the request of his defendant for provisional release pending closing arguments. Presiding judge Moloto indicated that the Trial Chamber would decide about it within 10 days.
In April 2008, the Trial Chamber acquitted Haradinaj and Balaj of the crimes against Albanians, Serbs and Roma on Kosovo in 1998. Brahimaj was sentenced to six years in prison. The Appeals Chamber reversed the judgment and ordered a partial re-trial on six counts in the indictment, relating to the crimes in the Jablanica prison camp. The judges found that the trial had ended before the prosecution had examined all its witnesses.
The partial re-trial began on 18 August 2011. The prosecution has called a total of 56 witnesses. Twelve witnesses appeared in court and gave evidence viva voce, while the testimonies of the remaining witnesses were submitted in written form. The defense lawyers of the former KLA commanders obviously feel that the prosecution has yet again failed to prove their clients' guilt. By deciding not to present a defense case, they indicate there is nothing to contest and that the accused should therefore be acquitted.