Home
PROSECUTION RESTS ITS CASE AT HARADINAJ TRIAL
The prosecution has rested its case at the trial of former KLA commanders Ramush Haradinaj, Idriz Balaj and Lahi Brahimaj. A status conference has been scheduled for 2 May 2012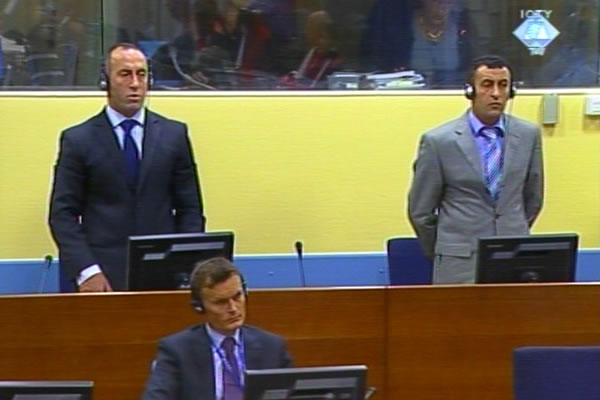 Ramush Haradinaj and Lahi Brahimaj in the courtroom
On Friday, 20 April 2012, the prosecution rested its case at the partial re-trial of former KLA commanders Ramush Haradinaj, Idriz Balaj and Lahi Brahimaj, it was said today at the Tribunal.
According to the latest information presented at the hearing on 13 February 2012, the prosecution had yet to examine a witness who would testify under the pseudonym 80. The witness did not appear in court that day. The Trial Chamber then had to decide whether it would prefer to wait until May 2012 for the witness to arrive in The Hague, examine him via video link, organize his testimony in the country of his residence or order the prosecution to rest its case without examining the witness. It is not yet known which option the Trial Chamber has chosen. The only publicly available information about Witness 80 indicates he refused to testify at the first trial and that the proceedings against him in his current country of residence should be completed before he testifies at the Haradinaj et al trial.
In its judgment, the Trial Chamber acquitted former KLA commanders Haradinaj and Balaj of the crimes against Albanians, Serbs and Roma in the Dukagjin area on Kosovo in 1998. Brahimaj was sentenced to six years. The Appeals Chamber ordered a partial re-trial on six counts in the indictment for crimes in the prison camp Jablanica, finding that the trial ended before all prosecution witnesses were examined.
Now that the prosecution has rested its case, the accused have to tell the Trial Chamber by 27 April 2012 if they intend to move for their acquittal because of lack of evidence or if they intend to present their defense cases.
The further course of the trial will be discussed at a status conference slated for 2 May 2012.