Home
HARADINAJ AND OTHERS WILL NOT CALL EVIDENCE IN THEIR DEFENSE
The defense teams of the three former Kosovo Liberation Army commanders, Ramush Haradinaj, Idriz Balaj and Lahi Brahimaj, has announced that they will not present their cases. The defense lawyers have indicated they will not call for the acquittal of their clients after the prosecution has rested its case, in line with rule 98 bis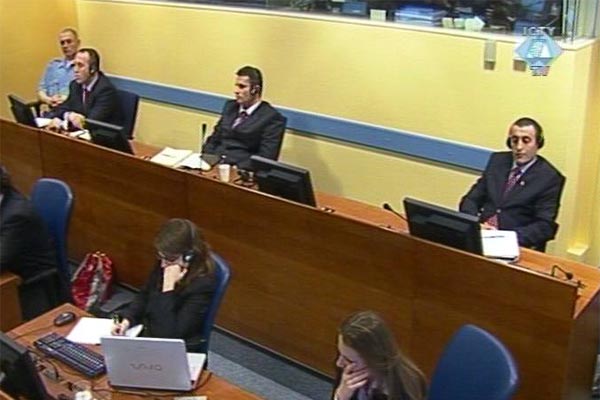 Ramush Haradinaj, Idriz Baljaj and Lahi Brahimaj in the courtroom
After the prosecution rested its case at the partial re.-trial for crimes against Serbs, Roma and Albanians in Kosovo in 1998, the defense teams representing Ramush Haradinaj, Idriz Balaj and Lahi Brahimaj, former Kosovo Liberation Army commanders, indicated they wouldn't present their cases.
As Idriz Balaj's defense further indicated, it will submit a brief dealing with the issues raised in the examination of the last prosecution witness. He was examined outside the Netherlands from 16 to 20 April 2012. Although the defense does not intend to call any evidence, it might decide to call a single witness, a medical expert, if the prosecution objects the medical documents pertaining to the last witness which the defense intends to tender. In any case, the expert will complete his testimony in a single hearing.
The defense lawyers of all three accused indicated they wouldn't use the opportunity to call for the acquittal of their clients in line with Rule 98 bis, which allows the defense to do so for each count in the indictment the prosecution has failed to prove, in the defense's view.
In their documents, the defense lawyers note they have agreed with the OTP representatives a tentative deadline for the submission of their final briefs on 11 June 2012. The parties have also agreed they should be ready to present their closing arguments on 25 and 26 June 2012, and have asked the Trial Chamber to green-light the proposed dates at the status conference tomorrow.
The Trial Chamber acquitted Haradinaj and Balaj of crimes against Albanians, Serbs and Roma in Kosovo in 1998. Brahimaj was sentenced to six years. The Appeals Chamber ordered a partial re-trial on six counts in the indictment, relating to the crimes perpetrated in the Jablanica prison camp, having found that the trial was completed before the prosecution had examined all its witnesses.
By deciding not to present their cases, the defense lawyers obviously want to make it clear that in their opinion the prosecution has yet again failed to prove beyond reasonable doubt their clients' guilt for the crimes they are charged with in the indictment.