Home
EVIDENCE ON CRIMES IN JABLANICA COMPLETED
An insider witness completed his testimony today at the Haradinaj et al. trial. His evidence proceeded for the most part in closed session. The witness claimed that as a KLA member he visited the prison camp in Jablanica and saw Ramush Haradinaj, Idriz Balaj and Lahi Brahimaj actually commit crimes. The defense contends that such claims were 'fabrications and lies'. There will be a break in the trial until 13 February 2012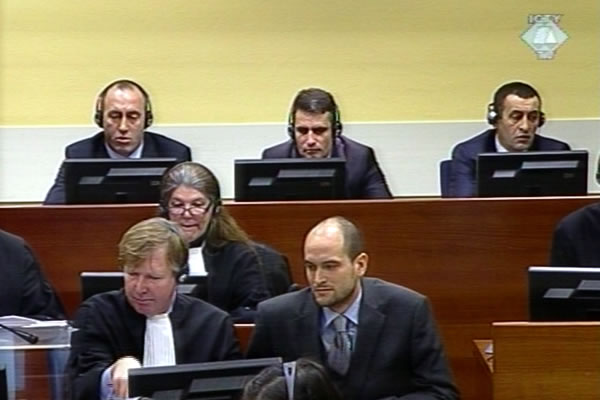 Ramush Haradinaj, Idriz Balaj and Lahi Brahimaj in the courtroom
After two very lively days in court, in which Ramush Haradinaj's defense lawyer cross-examined the prosecution witness testifying under the pseudonym 81, it looked as if the situation could heat up further today. This may have actually been the case, but if so, it happened in closed session, while the witness was asked questions that might have revealed his identity. Parts of the redacted transcript from the hearing today are expected to be disclosed soon because the defense indicated it would petition the Trial Chamber to release them.
In the brief parts of the hearing open to the public it became clear that after Haradinaj's British lawyer Emmerson completed his cross-examination, Lahi Brahimaj's counsel took over. Brahimaj's lawyer at one point said that he and the other defense teams 'after consultations decided not to ask the witness any additional questions'; they were obviously happy with the results of their cross-examination. Prosecutor Kravetz didn't have any additional questions to try and restore the credibility of her witness. After a few brief questions of the Trial Chamber, Witness 81 completed his testimony.
The protected prosecution witness began his evidence at the Tribunal this week. In his examination-in chief, the witness claimed that in 1998 he was member of a KLA special unit from Drenica and that he visited the prison camp in Jablanica three times. There, the witness alleged, he saw all three accused – Ramush Haradinaj, Idriz Balaj and Lahi Brahimaj – brutally abuse Roma and Serb prisoners. In the cross-examination, Haradinaj's defense counsel insisted on the numerous discrepancies between what the witness said in the courtroom and what he had said in his previous statements to the OTP investigators. The cross-examination was marked by violent verbal clashes between the witness and the defense counsel in which they accused each other of lying and fabricating; there was even some swearing.
Near the end of the hearing today, it was announced that the prosecution would, before resting its case, call another protected witness who will testify under the pseudonym 80. The witness will not begin his evidence until 13 February 2012. As the presiding judge Moloto stressed, the judges will change the scheduling order if it turns out the witness can testify earlier.
The three former KLA commanders are partially retried on six counts in the indictment for crimes against prisoners in the Jablanica prison camp. The Trial Chamber had acquitted Haradinaj and Balaj on all 37 counts in the indictment for crimes in the Dukagjin area in Kosovo in 1998. Brahimaj was sentenced to six years. The Appeals Chamber ordered a partial re-trial, having found that the prosecution had rested its case too early, before it was able to examine two of its witnesses about the crimes in Jablanica. The new trial started in August 2011.